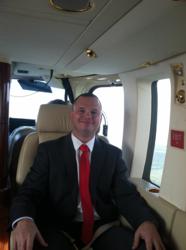 Cleveland, OH (PRWEB) October 11, 2012
Local entrepreneur Roger Bryan announces a Meetup opportunity for those in the Cleveland area. The Meetup will consist of networking, exchanging ideas, and most importantly, having fun. A "Meetup" is a way for people to find groups and activities to participate in based on their interests. Bryan has had one Meetup in the Cleveland area so far, at which he discussed the business benefits of optimizing LinkedIn. As a follow up, he will be showing the attendees a case study using his LinkedIn optimization technique.
The topic for this Meetup is "Dominating YouTube" based on a formula that Roger Bryan developed and tested to get YouTube videos to rank on search engine results pages. Through optimizing YouTube videos, Bryan believes business owners can not only increase traffic to their websites, but also increase their profits through the use of his YouTube formula. Although the Meetup will provide this information to attendees, the main focus of the event is to have a good time. "This Meetup is a good opportunity for internet marketers in the Cleveland area to get together, bounce ideas off of each other, and have a good time away from our computers," commented Roger Bryan.
Anyone in the Cleveland area who is trying to make money from home, or who is active in the internet marketing niche, should make an appearance at the Meetup. Those interested in the Meetup can contact Roger Bryan on one of his social network profiles, or visit the Meetup website itself. Bryan is eager to get to know the Cleveland internet marketers, as he is a Cleveland native and has been active in internet marketing for over a decade. To sign up for the Meetup, visit http://www.meetup.com/Internet-Marketing-Business-Development-Mastermind/