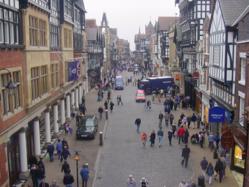 High street retailers can encourage sales conversion with the power of the mobile phone
London, UK (PRWEB) October 11, 2012
A new initiative from Skype and Wi-Fi supplier Wicoms means that UK consumers will soon be able to receive discount vouchers and coupons while they are out and about on the local High Street. The initiative is called Free Skype Wi-Fi and it will enable businesses to offer consumers the ability to browse the net, compare prices and check email while in-store. Businesses will also be able to offer their customers special deals and discounts as soon as they walk through the door.
The rollout of the Free Skype Wi-Fi system began at the beginning of October and should prove to be a real boost to UK stores in the run up to the make or break Christmas period. High Street sales have been declining steadily for years and the latest initiative from Wicoms and Skype is aimed at helping stores in the UK to provide a better service to their customers and reverse this trend.
A recent survey by YouGov confirmed the huge role that discount vouchers and codes now play in the shopping habits of UK consumers. It found that more than 50% of shoppers aged between 18-34 would be more likely to buy an item an item there and then if a store sent a discount code or voucher to their phone when they entered the store. It also found that 33% of shoppers regularly compared prices on sites such as eBay and Amazon while shopping on the High Street.
"By working with a globally-trusted partner like Skype to provide Free Skype Wi-Fi on-premise, business owners and high street retailers can open a dialogue with potential customers and encourage sales conversion with the power of the mobile phone," Owen Geddes, managing director of Wicoms said.
Businesses interested in providing Free Skype Wi-Fi to their customers can trial the system for free throughout October. Wicoms is giving companies throughout the UK the chance to try out the system with no obligation. They are offering all hardware and the ability to deliver Wi-Fi to customers and any businesses who no longer wish to continue with the service can even keep the router.
Anything that offers UK consumers a chance to save money is of course more than welcomed by the money and discount saving site sharediscount.co.uk. With the strain on household budgets showing little sign of easing and Christmas rapidly approaching anything that can help UK consumers to get a better deal is good news.
About Shared Discount
The http://www.sharediscount.co.uk/ website gathers together all of the best deals and discount vouchers information any savvy bargain hunter could ever need. Launched in early 2012 its aim is to help people in the UK get more for their money whether they are eating out, going on holiday, buying the latest designer gear or insuring their pet.