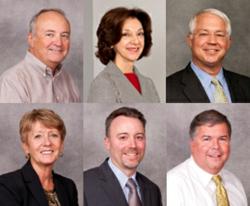 Boston, MA (PRWEB) October 09, 2012
Leading provider of medical professional liability insurance, Coverys, is pleased to announce Jack Donehue has been named the new chief operating officer (COO). Additionally, Donna Miele-Cesario has taken on the role of chief claims officer, in addition to her role as CIO; Michael Kubik has been promoted to senior vice president of marketing; Barbara Staples has been promoted to vice president of claims; Eric Crockett has been promoted to vice president of information technology (IT); and Mark Lynch has been promoted to vice president and controller of corporate finance.
Jack Donehue, former chief financial officer for Coverys (then ProMutual Group) from 1989 to 2010, has returned to the organization as chief operating officer. In his role as COO, Donehue will assist in developing and executing the annual business plan and long-term strategic plan. He will also oversee the Healthcare Provider Education, Marketing, Risk Management and Underwriting Departments and Coverys Insurance Services, the company's insurance agency based in Lansing, Mich. Prior to joining the organization in 1989, Donehue served as deputy controller and assistant treasurer for Commercial Union Insurance Company and was a former manager of corporate accounting for Liberty Mutual Insurance Company. Donehue has served on the Board of Managers and the Investment Committee of the Property Casualty Initiative and is a past member of the Association of Mutual Insurance Accountants and the Society of Insurance Accountants. He graduated from Northeastern University with a Bachelor of Science degree.
As the chief claims officer, Miele-Cesario will mentor and develop staff and oversee vision and strategy, in addition to her responsibilities as chief information officer. As chief information officer, she leads strategy for the IT Department, which supports all Coverys member companies. Prior to these roles, Miele-Cesario was senior vice president of IT. From 1979 to 1988 she worked in the Claims Department as both a claim representative and a claim supervisor before taking over the implementation of company-wide IT services. Miele-Cesario received a Bachelor of Science degree in Management from Lesley College. In addition, she holds an Information Systems Management graduate certificate from Boston University and a Strategic Internet Management graduate certificate from Northeastern University.
Michael Kubik has been promoted to senior vice president of marketing. Since taking on the role of vice president of marketing in 1998, Kubik has implemented the company's expansion into 12 new states. He was also integral in the development of the newly formed Coverys RRG. Kubik has more than 25 years of experience in the sale and marketing of professional liability insurance. He is a graduate of Central Connecticut State University where he received a Bachelor of Science degree in Marketing. He is a licensed property-casualty agent.
Barbara Staples has been named the new vice president of claims for Coverys. Previously a director of claims, Staples will be responsible for overseeing the day-to-day activities of the Claims Department and for assisting Miele-Cesario with overall claims strategy. Staples has been with Coverys and its predecessors for 35 years. Prior to that, she was a claim representative for St. Paul Companies. She received a Bachelor of Science degree in Nursing from Salem State University.
As the new vice president of IT, Eric Crockett will be responsible for all IT staff and for the daily IT operations for the entire organization. Crockett joined Coverys in 2002 as manager of information systems. He has since served as a senior manager of information systems and director of infrastructure and operations. Prior to joining Coverys, Crockett held various information technology positions at Arbella Insurance. Crockett received a Bachelor of Science Degree in Business Administration from St. Michael's College in Vermont. He has Local Area Networks and Data Communications certifications from Northeastern University.
In recognition of his responsibilities in the Corporate Finance Department, Mark Lynch has been promoted to vice president of corporate finance, and will also maintain his role as controller. He will continue to oversee the daily operations in the department and contribute to overall strategy in his role as corporate controller. Prior to joining the organization in 2010, Lynch held a variety of finance roles at MiddleOak, a property casualty insurer, where he began his career in 1984 as an accountant. Lynch is a past president of the CPCU Boston Chapter and a member of the Property and Casualty Initiative Investment Committee. He received a Bachelor's Degree in Business and Economics from Gordon College, as well as a Master's in Business Administration from Salem State University.
For more information about Donehue, Miele-Cesario, Kubik, Staples, Crockett, Lynch or Coverys please contact Katharine Gould at kgould (at) coverys (dot) com or (617) 946-8665, or visit the company's website at http://www.coverys.com.
About Coverys
Coverys is one of the top 10 medical professional liability insurance providers in the country based on direct written premium. Coverys member companies insure more than 20,000 physicians, surgeons, dentists, certified nurse midwives and allied healthcare providers, as well as nearly 500 hospitals, health centers and clinics in 23 states from coast to coast. Coverys is committed to financial strength and stability with net admitted assets in excess of $3.2 billion, direct written premium of $375 million and policyholder surplus of $1.1 billion, as of December 31, 2011. In addition, all Coverys insurance member companies have a Best's Rating of A- (Excellent). Coverys emphasizes physician education and patient safety, and the company is acknowledged as a leader in providing supportive risk management services and resolute claim defense to the healthcare community. Coverys also offers a variety of interactive and relevant continuing medical education (CME) activities to healthcare providers across the country. For more information visit the Coverys website at http://www.coverys.com. Timely industry and company news can also be found on the Coverys blog at coverys.wordpress.com, on Twitter (@Coverys) and on the company's Facebook page.