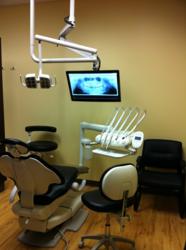 Advanced Laser Dentistry introduced to Help Patients by Lake Travis Dentistry in Lakeway, TX.
Lakeway, TX (PRWEB) October 12, 2012
Lasers have been in medicine since the 1960s and have seeped into most medical fields since then. Introduced to dentistry in 1989, they are used to treat an array of conditions with virtually no pain and extraordinary precision, which is a large reason why Dr. Panahi and Dr. Kane at Lake Travis Dentistry in Lakeway, Texas decided to invest in this technology for their practice. Laser dentistry now takes treatment of gingival conditions such as periodontal disease and cosmetic gum contouring to a new level of advancement.
The type of laser the practice has invested in is called an Odyssey Diode Laser. This laser generates a single stream of electromagnetic energy to bare glass fibers, known as a fiber-optic system. This fiber-optic system then delivers the energy directly to the targeted hard/soft tissue site. Depending on the intended procedure, the laser can be used for direct or indirect contact with the specified tissue. The lasers precise access to the site creates a clean path for dentists that would otherwise be difficult to access, all while minimizing bleeding, swelling, and post-operative discomfort. "This less invasive approach is always ideal for patient and dentist alike. We strive to make our patients as comfortable as possible and want to deliver less trauma overall. As well, patients are more open to procedures that are seemingly painless. It's a win-win," Dr. Panahi states.
Laser dentistry can serve many purposes from mild to severe periodontal disease to several cosmetic needs, which means many services can be offered using a laser. Laser services Lake Travis Dentistry is providing include the following: traditional crown lengthening and frenectomies; aphthous ulcer, herpes and abscess care, gingivectomies, implant and crown exposure, and hemostasis. Especially patients with periodontal disease, Dr. Panahi and his team encourage patients to consult their dentist and see if laser dentistry is a viable treatment option.
There is much to benefit from laser dentistry, which is why it has become a popular and ever-evolving trend within the dental field. According to Dr. Panahi, "The healing and soothing properties of a laser today just knock other traditional methods out of the water." In essence, there is more to gain when technology offers comfortable and efficient options, especially when it pertains to the medical field and its patients.
The Odyssey® Diode Lasers from Ivoclar Vivadent, Inc. represent the latest diode laser technology available for soft tissue modification and preventive care. Odyssey Diode Lasers are the most efficient, portable, and affordable soft tissue laser in dentistry today.
LakeTravis Dentistry in Lakeway , Texas is happy to be the first dental clinic in our region to offer such an advanced technology.