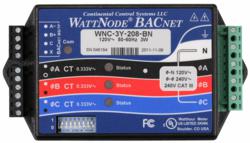 Boulder, CO (PRWEB) October 10, 2012
Founded in 1995, Colorado-based Continental Control Systems specializes in electric power submetering and monitoring equipment. The company's solutions are designed to provide key electrical system measurements including power (kW) and energy (kWh) through a variety of communication protocols including BACnet®, Modbus®, and LonWorks® and as pulse outputs. Applications for the WattNode® meter and Accu-CT® include building automation, LEED certification, tenant submetering, performance verification/evaluation/diagnostics, net metering, and energy management.
All Continental Control Systems products are listed or recognized by Underwriters Laboratories Inc. for use in both the United States and Canada (cUL).
"Energy efficiency is one of the primary objectives in green building, and building automation systems play a central role in obtaining this goal. To be effective, however, they require energy submetering and monitoring solutions that are cost-effective, accurate, and that help to increase ROI. We'll be showcasing our WattNode® BACnet® meter and Accu-CT® current transformer at this year's Greenbuild International Conference & Expo, the world's largest event dedicated to green building. We welcome visitors to see our solutions there for themselves." — Cynthia A. Boyd, director of sales at Continental Control Systems
Continental Control Systems News at the 2012 Greenbuild International Conference & Expo
FEATURED PRODUCT HIGHLIGHTS:
WattNode® BACnet® Energy Meter
Cost-Effective Energy and Power Meter Features Compact Design and Easy Installation
For building automation systems requiring the BACnet® communications protocol, Continental Control Systems will be highlighting its cost-effective WattNode® BACnet (MS/TP) energy and power meter at the 2012 Greenbuild International Conference & Expo. The WattNode BACnet meter complements the company's Modbus® and LonWorks® meters, allowing almost any building automation system to access electrical measurements seamlessly — including power, energy, voltage, current, and power factor. The most compact and cost-effective networkable energy meters on the market, all WattNode meters provide line-powered single and three phase, wye, or delta configurations up to 600 Vac and 6000 A. Supporting full self-discovery of the meter and all of its objects, the WattNode BACnet meter offers more than 50 electric power-related measurements, 64 addresses, and selectable baud rates of up to 76.8 K.
Accu-CT® Current Transformer
Revenue-Grade, High-Accuracy Split-Core Current Transformer
Designed to be used with any energy meter requiring a low voltage input, the Accu-CT® offers an unprecedented 0.5 percent linearity over a wide range of the rated current (1 to 120 percent of rated current). The Accu-CT complies with the linearity and accuracy requirements of ANSI C57.13 for tenant submetering and billing. Its low-voltage output — 333 mVac or 1 Vac at rated current — allows for installation without shorting blocks. The UL-recognized CT is available in rated currents of 5 A, 20 A, 50 A, 100 A, 200 A, and 250 A, with inside dimensions of 0.75 inches by 0.75 inches (20 mm by 20 mm), and features 8-foot, 22-AWG twisted-pair leads.