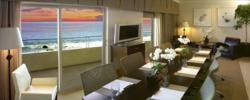 Our Inn gives meeting planners and attendees the opportunity to enjoy a pleasant work-life balance. The brand new Boardroom is the ideal intersection of modern technology and sleek décor
Malibu, CA (PRWEB) October 10, 2012
Malibu Beach Inn is excited to reveal its newly renovated Boardroom by the Sea, complete with modern AV equipment, sleek décor and across-the-board upgrades. The ocean front meeting space underwent a complete renovation to become Malibu's premier modern meeting venue.
The Boardroom, which measures 450 square feet (24 feet by 13 feet), accommodates meetings of up to 16 attendees and receptions with up to 35 guests. The private ocean front terrace – attached to the Boardroom – offers breathtaking views of the Pacific Coast during meeting breaks. The attached powder room adds the convenience of extra space. Malibu Beach Inn offers a wide range of add-ons and extras, including valet parking, beverage stations and catering for breakfast, a morning break, lunch, and an afternoon break.
Malibu Beach Inn is Southern California's premier destination for autumn and winter retreats, offering an appealing blend of productivity-enhancing amenities, relaxing perks, and special group rates for overnight stays. Companies can plan a full day of meetings in the newly renovated Boardroom before attendees break off for a refreshing massage or mini-treatment at the hotel's Cure Spa Suite or a rejuvenating session of yoga, Pilates, or boot camp classes. Malibu Beach Inn is the perfect place for team-building, featuring fun group water sports and beach activities.
"Our Inn gives meeting planners and attendees the opportunity to enjoy a pleasant work-life balance," said Jill Allison Jennings, General Manager at Malibu Beach Inn. "The brand new Boardroom is the ideal intersection of modern technology and sleek décor, and the beautiful ocean front views of dolphins and seals spark endless creativity. After the day's meetings are done, our onsite spa provides an array of ways to relax."
Meeting planners can make the most of the Malibu event space by booking the Boardroom by the Sea Package. The package, which starts at a minimum of $1,000 (not including tax, service charges or valet parking), includes an array of productivity-enhancing features to make corporate occasions easy and efficient. Meeting planners will enjoy a function space equipped with AV equipment and free Wi-Fi, complete with a variety of optional add-ons and extras, such as cocktails and hors d'oeuvres around the Ocean Front Terrace fireplace.
About Malibu Beach Inn:
Offering 47 immaculately appointed rooms and suites along the strip of seashore nicknamed "Billionaire's Beach," Malibu Beach Inn offers access to breathtaking beachfront views and stunning sunsets in Southern California's most scenic area. Accommodations at Malibu Beach Inn boast space to stretch out, free high-speed Internet access and plush bedding, and the Carbon Beach Club restaurant serves creative coastal cuisine and hand-picked wines from California's best vineyards. Perfect for a romantic getaway, an escape with friends or a spa weekend, Malibu Beach Inn is Southern California's elite escape.