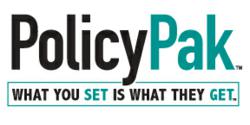 "This new version of PolicyPak allows an incredible amount of customization, letting IT Administrators use Active Directory Group Policy, SCCM, or other management tools to stop employees from messing with application settings,"
Philadelphia, PA (PRWEB) October 09, 2012
PolicyPak, a leading provider of desktop management software that delivers, enforces and remediates application settings, has released a new, more robust version of the company's Group Policy extension, PolicyPak Professional and Design Studio.
Used in conjunction with Group Policy, SCCM or other desktop management tools, the latest version of the software lets IT Pros control settings and software updates on any purchased, downloaded or home-grown application. PolicyPak customers can use included, pre-configured Paks to control out-of-the-box applications like Acrobat Reader X, Flash Player, Java, Firefox, Microsoft Lync and more.
"This new version of PolicyPak allows an incredible amount of control, letting IT Administrators use Active Directory Group Policy, Microsoft SCCM or your other management tools to deliver PolicyPak settings and prevent employees from messing with application settings," says Jeremy Moskowitz, Group Policy MVP and PolicyPak Founder. "Controlling software updates and preventing workers from changing application settings on laptops, desktop PCs and mobile devices not only cuts back on unnecessary help desk calls, it boosts IT security without interrupting employee workflow."
Specific new features for version 3.5 include:
1. Integration with Microsoft SCCM, Windows Intune and many other systems management tools (as well as Active Directory Group Policy.)
2. Delivery of settings to virtualized applications to customers of Microsoft App-V, VMware ThinApp, Citrix XenApp Streaming, and XenApp servers.
3. All application settings can be enforced, even when the computer is offline. When the application is launched or relaunched, IT delivered settings are instantly remediated.
4. Compatibility with most VDI solutions, including VMware View, Citrix XenDesktop, Citrix XenApp, Quest Desktop Virtualization and Microsoft RDS/VDI.
PolicyPak controls settings on desktops, laptops, VDI installations or even employee-owned devices.
IT Admins can find out more about PolicyPak 3.5 by attending a Group Policy Webinar at the PolicyPak Website, or by calling (800) 883-8002.
About PolicyPak Software
PolicyPak Software (http://www.policypak.com) is the leader in application compliance and desktop management tools for Active Directory. The software enables IT pros to deliver, lockdown and remediate settings for desktops, laptops, VDI sessions, company devices, as well as personal "BYOD" devices. PolicyPak was founded by desktop management expert and Microsoft Group Policy MVP Jeremy Moskowitz.