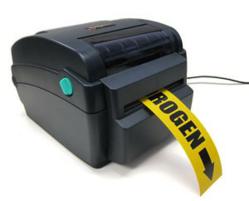 "To make sure our business was complying with safety standards, we invested in the LabelTac4 printer. We were 100% satisfied with the quality and ease that it took to make the labels."
Lake Oswego, OR (PRWEB) October 11, 2012
A new business or a company that is growing by leaps and bounds will benefit by making labels in house rather than outsourcing from a third party. No more waiting for labels to arrive in the mail and the cost of making labels in house will pay for itself in just a short period of time. The LabelTac4 is the original industrial label maker and is considered one of the best selling printers in the market. Labeltac.com is now offering this printer along with some of the highest quality printer supplies and ribbon products on the market.
Printing labels in house is easier and quicker by printing from the LabelTac4 Industrial Thermal Printer. It comes complete with thousands of pre-made templates and symbols to begin printing quickly and immediately. The printer uses familiar programs such as Microsoft Word, Excel, Open Office, etc to make installation a breeze. No sweat if one of these programs is not available as the printer includes the Bartender Light software.
The LabelTac 4 printer will provide professional results by printing all labels for 5S, pipe marking, facility logos, lean manufacturing and custom bumper stickers for marketing. There is no end to the type of label the printer can produce for the needs of every individual business's needs. The printed labels are UV, chemical, weather, water, and wear resistant, and will not fade or smear over time. The labels are perfect for use in any environment from an office style to the toughest industrial manufacturing facilities. Labels can be printed for either indoor or outdoor use and can be made up to 4 inches tall and 40 inches long. A new business owner commented, "To make sure our business was complying with safety standards, we invested in the LabelTac4 printer. We were 100% satisfied with the quality and ease that it took to make the labels."
Please visit http://www.labeltac.com/labeltac-4/ for more information about LabelTac 4 Industrial Printer and all the supplies and ribbons associated with the LabelTac4 printer. Or call toll-free (866)777-1360 to speak to a knowledgeable support representative.