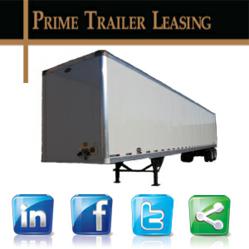 Relationships Matter
Denver, Colorado (PRWEB) October 22, 2012
Prime Days
Prime Trailer Leasing believes that "Relationships Matter."  Lately, at Prime Trailer Leasing, they have been giving this core value a lot of consideration.  Prime Trailer Leasing provides semi trailers for sale and rent. Prime believes that what makes them successful is their ability to connect with those around them. Relationship, a profound connection between two people, is why they do what they do. It is in their vision statement to desire relationships with others, and they believe relationships are what motivate them to work, grow, and succeed. Recently, they've been taking deliberate steps to create and deepen these relationships – not only with their customers but with their employees and the communities where they live.
This is why Prime Trailer Leasing has introduced a new program called Prime Days. Each member of the Prime Team is given one full paid work day to volunteer at a nonprofit organization in his or her community. It is their hope that this will be a first step toward a powerful and long lasting relationship between their employees and those in need in their communities. We further believe that a stronger relationship will form between their fellow employees. One Prime employee stated of his Prime Day experience, "I just feel thankful to work for a company that cares so much about the community that they give a day off to help those in need. Building these relationships requires intentional decisions to reach out to those around us – our customers, our employees, and our communities. As we serve and share our experiences with others, we strive to live out our motto of "Relationships Matter."
Connect with Prime
Prime has locations in Denver, Salt Lake City, and Reno, and they would love the opportunity to connect with you and build a relationship. If you have comments or thoughts on this, they would love to hear from you on our Facebook page or Twitter accounts.