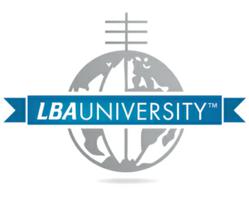 LBA University® is committed to educating hard-working men and women to perform their occupations safely, whether they are on a tower, in the field, or at a busy worksite
Greenville, NC (PRWEB) October 11, 2012
A hot day on a literally hot tower not only is uncomfortable for a tower worker, it is dangerous. Vermin and reptiles on the ground bring the worker a separate set of dangers. Recognizing and avoiding these hazards are just a few of the lessons taught in a comprehensive on-line Outdoor Hazard Safety Certification course offered by LBA University®.
LBA University® launched its new employee safety training program in response to a growing imperative by OSHA and other regulatory agencies to protect workers in outdoor occupations. Program instruction is designed to make employees aware not only of a wide variety of outdoor hazards, but also OSHA requirements and appropriate responses to hazardous exposures. Course content has specifically been designed for workers on and around communications towers and other structures. Upon satisfactory testing, the student is awarded a Certificate of Completion.
The course content is supported by LBA's 50 years of experience in the telecommunications and safety industry coupled with the skills of the LBA University® training staff. Bryan Dixon is course director. He is an OSHA-certified safety instructor with two decades of industrial, construction and fire safety training experience. Details and registration for the course are at http://www.lbagroup.com/associates/outdoor-hazards-osha-safety-training.php.
"LBA University® is committed to educating hard-working men and women to perform their occupations safely, whether they are on a tower, in the field, or at a busy worksite," says Jerry Brown, LBA chief operating officer and president. "We are fortunate to have someone as experienced as Bryan to direct this course. He is professionally dedicated to workplace safety."
An LBA University® on-line tower RF Awareness Training Certification course was introduced in 2011 and swiftly became a safety-training standard within the wireless industry. Course information is at http://www.lbagroup.com/associates/rftraining.php.
Both courses are available in English and Spanish. Sign up is through a convenient on-line portal which permits students to have repetitive access to training materials and print certificates. Employer safety managers can access employee training records through a management interface.
About LBA Group Inc.
LBA Group, Inc. has 50 years of experience in providing electromagnetic protection for industrial and telecommunications infrastructure assets. It is comprised of LBA Technology, Inc., a leading manufacturer and integrator of radio frequency systems, lightning protection, and EMC equipment for broadcast, industrial, and government users worldwide; the professional engineering consultancy Lawrence Behr Associates, Inc.; and LBA University, Inc. providing on-site and on-line professional training. The companies are based in Greenville, N.C., USA.