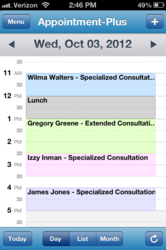 ...we're proud to offer our clients the mobile apps they need to run their businesses even more successfully and productively.
Scottsdale, AZ (PRWEB) October 10, 2012
Appointment-Plus, the worldwide leader in mobile and online scheduling, has announced the release of native mobile scheduling apps for the iPhone, iPad and Android phones and tablets, making "on-the-go" appointment- and reservation-scheduling from mobile devices even easier and more efficient.
The leading provider of online scheduling solutions is now the only major and universal online appointment scheduling system to offer the value of native mobile apps for the iPhone, iPad and Android phones and tablets. The apps are available free to all Appointment-Plus clients.
Appointment-Plus determined that native apps would be the most beneficial to clients' scheduling needs, as they're faster and more easily accessible than mobile web apps. The result is even more efficient appointment and customer management.
Appointment-Plus is not alone in its view of native mobile apps. Responding to his company's decision to focus on native apps instead of a mobile HTLM5 web app, Facebook CEO Mark Zuckerberg stated, "Native is going to be the approach that we go with for iOS and Android" at the September 2012 TechCrunch Disrupt conference.
"Appointment-Plus continues to be the trend-setter in the scheduling industry with this exciting mobile announcement," says Bob La Loggia, CEO of Appointment-Plus. "The future of the Internet and cloud-based applications like ours is through mobile, and we're proud to offer our clients the mobile apps they need to run their businesses even more successfully and productively.
"Regardless of whether our clients use an Apple product like iPhone, iPad or any Android product, Appointment-Plus has a mobile app for them."
Both the Apple and the Android version of the mobile scheduling software application allow clients to instantly view and manage their schedules, staff and customers by clicking on the Appointment-Plus icon button placed on their mobile device after downloading the app. This includes booking a new appointment, changing the time or canceling an appointment, adding new customer information or simply viewing their business service appointment schedule at a glance. All apps feature a clean and easy-to-navigate interface that makes administrating the booking process from mobile devices much easier and quicker than accessing a Web page or using commonly-available mobile web apps.
Additionally, Appointment-Plus is currently developing a "customer view" scheduling application for Apple and Android as well, which will further simplify the scheduling process for its clients' customers, patients and students. The company anticipates an end-of-year release for these apps.
The Appointment-Plus mobile apps can be downloaded from the App Store (for the iPhone and iPad) and the Google Play store (Android phones and tablets).
The worldwide experts in online scheduling software solutions since 2001, Appointment-Plus appointment scheduling software provides businesses and organizations of all sizes with the Web-based tools they need to simplify, automate and improve their appointment-booking processes. These include online customer scheduling, automated e-mail and text message reminders, online payment-processing, e-marketing and the industry's largest collection of plug-ins, syncs and integrations in its Marketplace.
"Today's business owners and their staff are relying more and more on mobile devices for conducting tasks, including appointment-scheduling," La Loggia adds. "Appointment-Plus is leading the way in providing the perfect mobile-scheduling solution for managing this important component of their operations."
To learn more about Appointment-Plus mobile scheduling and its new native mobile apps, click here.
-30-
About Appointment-Plus: Launched in 2001, Appointment-Plus was the industry pioneer in online scheduling software, utilizing the software-as-a-service (SaaS) business model since its inception. Today, Appointment-Plus is the worldwide leader in mobile and online appointment scheduling software with three million appointments booked every month and nearly a billion dollars in commerce conducted annually through its system. Its Scheduling Cloud™ API also enables larger organizations to build custom applications on the powerful Appointment-Plus engine, while its integrated Marketplace allows businesses to easily interface with Microsoft Outlook Calendar, Google Calendar, Constant Contact, QuickBooks and other popular business tools to help businesses and organizations manage their operations more effectively, productively and successfully.