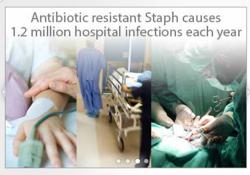 If uneducated on the topic one might consider this an epidemic.
Port Townsend, Washington (PRWEB) October 09, 2012
In effort to increase awareness and help prevent the continued spread of MRSA Staph Infections across the globe, health education company Embrace Health Inc. has released a complimentary report to the general public entitled "Is MRSA Contagious; How to protect yourself from MRSA Staph Infections and prevent spreading this superbug to others".
This report addresses some of the most common questions people have when they are first introduced to MRSA Staph either through a friend, family member or other resource. And it's release "is long overdue" according to author, Michelle Moore.
Moore says "we've conducted extensive research over the last 4 years on this subject and were not shocked to discover after looking at the trending reports for that period that there has been an obvious increase in online chatter about the subject over this time."
Moore adds, "in fact, right now, there are an estimated 1.2 million global searches per month in Google on the question "What is MRSA"; that's a large number of searches indicating the people are uninformed about this potentially life threatening bacteria and we want to be there to respond to them."
"If uneducated on the topic, one might consider an epidemic of sorts. One might also conclude this if they had seen recent news that MRSA Hospitalizations in academic medical centers have exceeded those of HIV and common FLU from 2006 to 2008".
Moore goes on to say, "while MRSA has been touted the bacteria of the decade, a study recently published in the Journal of Infection Control and Hospital Epidemiology found that the disease has more than doubled in academic medical centers over a 5 year period, from 21 infections per 1,000 people to 42 per 1,000, we certainly do see these increases as cause for concern but not at alarming rates at this time."
Nonetheless, this sometimes life threatening bacterial infection can be downright scary for many to learn about, let alone experience. When the public continues to hear accounts in the news of multiple students in local schools, sports teams and others close to home are affected by this disease they cannot help but notice.
Written by Microbiologist, Michelle Moore this report is one of many in a carefully selected educational series on Staph Bacteria to help build more awareness. More in the series will be released through 2012 and 2013.
In "Is MRSA Contagious" Moore addresses what MRSA really is and whether it should be feared, how contagious it is, whether MRSA lurks in our homes, how we catch it, how we prevent the spread of it and much more in this report.
Concluding the report, Michelle Moore dispels some of the myths and misinformation about MRSA Staph Infections and shares tips on how to help protect yourself and your family members from contracting this hard to fight superbug and many other infections.
"It's not just an eye opener, it's a tool for preventive health; one of many more to come". At least this is how Embrace Health Inc. would like readers to view it.
For those who already know or believe they have a Staph infection, Michelle Moore's MRSA Secrets Revealed book is a great solution for MRSA Treatment as well. But this report is intended to help avoid an infection before it happens. This is why the report itself is now and will forever remain free of charge.
To download the report, you can visit: http://www.staph-infection-resources.com/contagiousreport.html