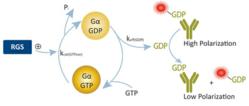 Madison, WI (PRWEB) October 11, 2012
BellBrook Labs has launched a comprehensive HTS assay platform, called RGScreen RGS Protein GAP Assays, that enables direct detection of RGS protein catalytic activity in an HTS-compatible format. GPCRs, a large family of transmembrane receptors, are the most extensively validated class of therapeutic targets. RGS proteins attenuate GPCR signals by increasing the GTPase activity of associated Gα proteins. Their selectivity for specific GPCRs and downstream signaling components and their tissue-sepcific expression makes them attractive as potential therapeutic targets, especially in CNS-related diseases. Though they have been the focus of intense investigation as potential drug targets, the lack of suitable HTS assay methods has prevented large scale screening efforts. BellBrook overcame this technical hurdle by developing proprietary Gα variant proteins that enable direct detection of RGS catalytic activity using the company's Transcreener GDP Assay.
The RGScreen RGS Protein GAP Assay product line includes four kinetically enhanced Galpha proteins and nine RGS proteins, which enables both primary screening and selectivity profiling. Included is RGS4 protein, which was recently identified as a potential therapeutic target in Parkinson's disease and RGS17, which has been implicated in lung and prostate cancer. Whereas RGS screening efforts to date have had to rely on protein interaction assays, which have yielded mostly covalent inhibitors, the RGScreen technology allows direct detection of RGS GAP activity. BellBrook scientists developed the innovative approach in a collaborative effort with Dr. David Siderovski, a co-discoverer of the RGS protein family at in the Department of Physiology and Pharmacology at West Virginia University School of Medicine, described in a 2009 publication in the Journal of Biomolecular Screening. BellBrook also offers an RGScreen™ Assay Service that provides custom assay development to produce and validate desired RGS protein targets followed by ongoing reagent supply to support large scale RGS protein screening programs.
About BellBrook Labs:
BellBrook Labs is dedicated to accelerating drug discovery and biological research by providing innovative high throughput screening solutions for enzymes and phenotypic assays. The company's Transcreener® HTS enzyme assays, used by all of the major pharmaceutical companies, make it easy to screen thousands of different enzymes, including validated targets like kinases, as well as emerging targets like ATPases, GTPases, methyltransferases, and glycosyltransferases. The iuvo™ Microconduit Array technology and assay screening service is a line of unique microscale devices for miniaturization and automation of advanced cell models that are more representative of human physiology. Visit BellBrook's website for more information: http://www.bellbrooklabs.com.