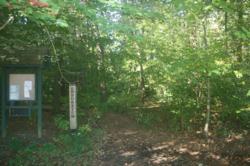 "The Almstead Prehistoric Garden will allow children to experience a unique environment. I think it will be lovely." - Carol Thielke, Director
Glen Rock, NJ (PRWEB) October 11, 2012
The Thielke Arboretum in Glen Rock is taking a giant step backwards – into the age of the dinosaurs. This week, work is beginning on the "Almstead Prehistoric Garden." Alan McCullough, New Jersey Branch Manager of Almstead Tree, Shrub and Lawn Care Co. has been working with Carol Thielke, Director of the arboretum, to create a kid-friendly (and dinosaur-friendly) educational landscape.
What goes into a prehistoric garden? "Trees and plants that have changed little over the millennia," says Alan McCullough, "like Ginkgo trees, Dawn Redwoods and Taxodium." In addition to the time and money provided by Almstead, several local nurseries have donated trees and plants for the garden, including the Maine-Evergreen Wholesale Nursery, the Cedar Hill Wholesale Nursery and Eisele's Nursery.
The Almstead Prehistoric Garden should be ready for visitors next spring. "First we will be removing most of the invasive saplings that have spread out along the woodland floor, then pruning the mature trees to improve health and safety, then redesigning and adding pathways that are low impact to the sensitive roots that remain. Then the planting of the feature trees will start in a few weeks," says McCullough. "We hope to have a formal opening in the spring." Almstead's donation will also include ongoing organic plant health care services.
Next year, the arboretum also plans to break ground on a new environmental education center. "We have an education program that has been quite popular," Carol Thielke notes. "It's been aligned to the New Jersey Core Curriculum. The Almstead Prehistoric Garden will allow children to experience a unique environment. I think it will be lovely."
The Prehistoric Garden is just the first phase of Almstead's commitment to the Thielke Arboretum. Over the next few years, they are planning to develop an Asian-themed garden and a butterfly garden.
###
About Almstead Tree & Shrub Care Co.
Family owned and operated, Almstead Tree, Shrub & Lawn Care Company has been serving homeowners, businesses and communities in the tri-state area since 1964. Services include: customized tree pruning, selective view clearing, hazard tree evaluation, plant health care, organic care, custom blend fertilization, horticultural consulting and disease and pest management. Headquartered in New Rochelle, N.Y., Almstead has locations in New York, New Jersey and Connecticut. Almstead can be reached at 800-427-1900 or online at http://www.almstead.com.
About the Thielke Arboretum
The Thielke Arboretum of Glen Rock is a serene oasis in the midst of a busy suburbia. The arboretum is a wetland forest, with nature trails, gardens, a spring fed pond, and a sparkling brook. The arboretum supports educational efforts as a field laboratory for several New Jersey schools, hosts events for many local civic organizations and countless visitors enjoy the grounds. Most of the recent development has been led by the tireless efforts of Carol Thielke, a long time Glen Rock resident. The Arboretum was named in her honor in 2009. The website is: http://www.glenrockarboretum.org
Contacts:
Alan McCullough, Branch Manager, Almstead Tree, Shrub and Lawn Co., North Haledon, NJ
(973) 636-6711
amccullough(at)almstead(dot)com
Carol Thielke, Director, Thielke Arboretum, Glen Rock, NJ
(201) 445-0871
muddygloves(at)hotmail(dot)com