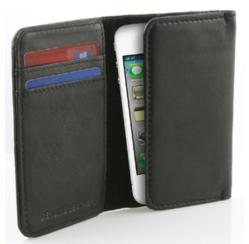 Security is the top concern for men and women not ditching their leather wallets for mobile wallets.
Mattoon, IL (PRWEB) October 11, 2012
A new study conducted by Lamood LLC, most consumers not willing to give up their leather wallets for mobile wallets.
According to 536 people who participated in the poll: Lamood LLC asked them "Will you ditch your leather wallet for an eWallet (mobile wallet, payment by phone)?
·90% will keep their leather wallets instead of ditching it for mobile payments.
·While only 10% were likely to abandon their wallet for mobile payments.
Top concern for not ditching their leather wallets for a mobile wallet was security. While many felt they would keep their pocket wallet because they still need to carry an ID and need to carry cash to make purchases.
Lamood LLC was founded in 2005. Lamood LLC is a leading e-commerce specialty retailer in fashion and is the parent company of WalletGear that carries the widest selection of men's wallets, women's wallets, and wallet inserts available. Lamood Big Hats is a Lamood LLC company as well that offers big hats for big heads.
# # #
WalletGear is a retailer of wallets, wallet inserts, credit card holders, ID holders, key cases, change purses and wallet accessories for all lifestyles. Visit http://www.walletgear.com. WalletGear is a part of Lamood LLC.