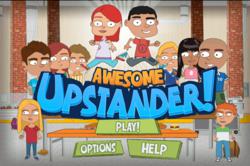 Anti-bullying app, Awesome Upstander!, will donate 50% of its proceeds collected during the month of October to partnering organizations working toward putting an end to bullying.
Nashville, TN (PRWEB) October 10, 2012
In an effort to bring awareness and to proactively address the growing bullying epidemic in the U.S., HealthTeacher, Inc., the interactive leader in youth health, created Awesome Upstander!, the first anti-bullying mobile game for the iPhone®, iPad® and Android® that teaches kids that they can stand up to bullies in a safe and positive way when they stand strong together as upstanders.
This October, during National Bullying Prevention Month, HealthTeacher, Inc. will donate 50% of its Awesome Upstander! app sales to its partner organizations; The KIND Campaign, an internationally recognized movement, documentary and school program based upon the powerful belief in KINDness that brings awareness and healing to the negative and lasting effects of girl-against-girl "crime," and TruthLocker, a free archiving app that automatically saves every text, photo and social media message in case a child is ever attacked by a cyberbully.
Just as kids can stand stronger together, anti-bullying efforts and programs benefit from supporting and being supported by one another.
"With Awesome Upstander!, we created an interactive, mobile game to address the most important social and emotional health issue affecting our kids," said Scott McQuigg, CEO of HealthTeacher, Inc. "We're excited to partner with two leaders in anti-bullying prevention to raise more awareness of the programs and tools out there to make a difference."
"Kind Campaign is excited to join in partnership with HealthTeacher, Inc's Awesome Upstander! App. In this technological age, it's crucial to engage youth through their mobile devices in a way that will promote kindness and teach simple lessons about the importance of standing up for others during this international movement to help combat bullying. This is such a timely conversation and we are happy to see companies using their resources to help create positive change in students lives."
-- Lauren Parsekian & Molly Thompson
President/Co-Founder & Vice President/Co-Founder of Kind Campaign
"New anti-bullying laws tell families to document and report incidents of cyberbullying, but this is in conflict with a student's instincts to delete," said Paul McMullen Chairman and CEO of TruthLocker. "TruthLocker is a free archiving app that automatically saves every text, photo and social media message to a private website. Every social media and text message can now be backed up with TruthLocker."
Every day, 160,000 students miss school for fear of being bullied.
Learn more about how you can help in the fight to end bullying by visiting http://community.awesomeupstander.com and downloading Awesome Upstander! for $.99 from the iTunes App Store and Android Marketplace.
About HealthTeacher, INC:
HealthTeacher is the interactive leader in youth health, creating games, apps, and educational resources to make health awesome for kids. HealthTeacher's research-based products are designed to get kids moving and to develop healthy behaviors that last a lifetime. Reaching over 6 million kids through its fast-growing network of 11,000+ schools, HealthTeacher's interactive products are used by teachers, parents, and kids to address important youth health issues, including physical activity, nutrition, and social and emotional well-being. To learn more, visit healthteacher.com.
About The KIND Campaign:
In February 2009, while attending Pepperdine University, two young girls recognized a problem and decided to do something about it. Lauren Parsekian and Molly Thompson, both affected by female bullying, decided to create a documentary and non-profit that would ultimately change the lives of hundreds of thousands of people across America. The girls have gone on three national tours, spreading their school assembly program and documentary film in hundreds of schools and communities across the country. Learn more at kindcampaign.com
About TruthLocker:
TruthLocker is a free app that makes a student's phone a no bully zone without losing privacy and independence. Students, parents and teachers created TruthLocker because phone companies don't save the content of text messages. Once a text message is deleted it is gone forever, but with TruthLocker all messages will be archived in your secure account within seconds. The archived messages are peace of mind that you, as a community, have done all you can to protect students from any issue related to bullying by way of texting and social media. Learn more at TruthLocker.com