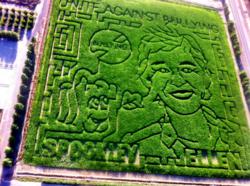 Bridgehampton, NY (PRWEB) October 10, 2012
Spookley the Square Pumpkin, the official "Spokes Pumpkin" for National Bullying Prevention Month, along with thousands of students across the country and celebrities including Ellen DeGeneres and Anderson Cooper, are joining together today to send one very large orange message of support to students who have been bullied (http://www.pacer.org/bullying/nbpm/unity-day.asp). To kick off the month, PACER and Spookley creator Joe Troiano introduced a brand new "Stop Bullying Before it Starts" Free Digital Teacher Toolkit featuring Spookley (http://www.pacer.org/bullying/resources/activities/toolkits/spookley/). Initial teacher response is very strong, with thousands of elementary and pre-school classrooms already registered for the curriculum.
Now, in support of Unity Day, Mr. Troiano and his team at Holiday Hill Farm (http://www.spookley.com) are offering the Spookley movie for online download and rental for the very first time. Seen in movie theaters and on Disney Channel every year for the last five years, this 45 minute animated musical is a perennial favorite among kids, parents and teachers, and it will debut today on iTunes and be available in the coming days through other outlets such as Amazon Instant Video.
"We are truly honored to be working with PACER on an issue of such importance and it gives us real pleasure to make a donation to PACER of 10% of all of our online sales on Unity Day, including sales of all of the books and other products available for the first time on our new online farmstand", said Jonathan Flom on behalf of Spookley owner Holiday Hill Enterprises. The month long celebration by Holiday Hill Farm also includes a Facebook photo contest (http://promoshq.wildfireapp.com/website/6/contests/294381) where entrants submit photos showing how they are helping Spookley raise awareness for National Bullying Prevention Month. Random winners will be selected during the month and will receive prizes like a giant inflatable Spookley and autographed books.
Spookley is also at the center of many other bullying prevention related events ranging from school field trips to local pumpkin patches across North America to movie screenings and book readings at unique institutions like the Museum of Tolerance in New York and the Liberty Science Center in New Jersey. Spookley is also being featured at family entertainment destinations that include Stone Mountain Park in Atlanta and Schnepf Farms in Phoenix, where Spookley unites against bullying in a fun corn maze that also depicts an image of bullying prevention champion Ellen DeGeneres.
About Spookley the Square Pumpkin: Created and written by Joe Troiano, The Legend of Spookley the Square Pumpkin is an illustrated storybook that has become a perennial best-seller and fall season favorite among children, teachers and parents. The Spookley story is now also available as an app for the iPad/iPhone, Android and Nook platforms, and the all new Spookley the Square Pumpkin a Family to be Thankful For is being released this year through Scholastic book clubs and fairs. For more information, including access to the new online farmstand, please visit http://www.holidayhillfarm.com.