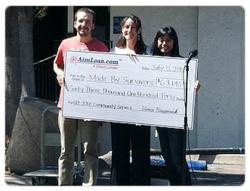 San Diego, CA (PRWEB) October 11, 2012
San Diego based Internet Direct Lender, AimLoan.com, believes in giving back to the community by sponsoring a quarterly Community Service Website Campaign. Each quarter, AimLoan.com proudly contributes $20 to the selected organization for each mortgage loan closed.
The Associates of AimLoan.com are proud to announce the results of our 2nd Quarter 2012 campaign which resulted in a contribution of $63,140 to Made By Survivors.
Made By Survivors is the core program of Made By Survivors Network, a US based NGO that works internationally with survivors of slavery and human trafficking. Founded in 2005, their mission is to end slavery through economic empowerment and education, giving survivors and people at the highest risk the tools they need to build safe, independent, slavery-free lives. MBSN currently operates programs in six countries, with a concentration of programming in India and Nepal. They offer job training and fairly paid employment to survivors, and provide intensive business development support to their core programs and partners. They market and sell the survivors' products in the US, and also assist them in finding other buyers.
They currently sponsor 200 child survivors and children born into brothel communities to attend school for the first time. They lead volunteer trips to provide therapeutic arts and life skills workshops to survivors. They provide funding for medical and emergency needs, start-up capital for employment programs, and whenever possible, they fund projects to increase capacity at our partner shelters for rescuing and housing more survivors.
For more information on this organization, please visit http://www.madebysurvivors.com.
Click here to see the results of prior campaigns!
ABOUT AIMLOAN.COM
Our mission is to provide the lowest cost, most convenient mortgage in America.
AimLoan.com was founded in 1998 as an Internet Direct Lender, committed to using technology to provide a lower cost, more convenient mortgage to our customers. Our system eliminates the mortgage broker and highly commissioned loan officer, the highest cost components of the mortgage process. We further reduce costs by utilizing automated underwriting systems and other technologies, and by lending in 46 states from a single location. AimLoan.com was founded by Vince Kasperick who continues to serve as president. For more information on AimLoan.com, please visit http://www.aimloan.com.