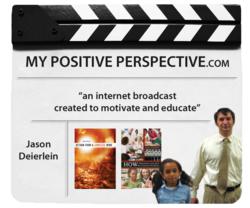 The pain is temporary, the extent of your recovery is permanent.
Charleston, SC (PRWEB) October 10, 2012
October 2012, My Positive Perspective is doing its best to increase awareness and support for car accident victim Nick Collins. The event is to be held at Liberty in Mount Pleasant on Sunday, October 14th. The event is from 12-5 pm and features Nick's band Fowler's mustache and includes a corn hole tournament. Fellow musician Ben Fagan appeared on the My Positive Perspective episode with host Jason Deierlein. Fagan said of the event, "Most of us have been in the hospital before so we know how expensive it is, and Nick had a bit of a setback so he will have to stay in the hospital a little longer."
My Positive Perspective host Jason Deierlein has a message for Collins, "Your recovery will have its good days and its bad days." Deierlein tells Collins that he must not let the bad days get in the way of the ultimate goal, which is full recovery. With all the pain Collins is enduring, it's hard to remember that the pain is temporary. The extent of his recovery is permanent.
When Deierlein advised Collins on how to manage the pain he says, "Inhale deeply through your nose and exhale deeply through your mouth. I would try to think of what it must have been like for those going through this before pain medicine even existed. I can relate, I know how painful it is, but back in the old days, people would pass out from pain. I remember going through that, and I'm sure that's happened to you." However, the good news is that it doesn't last forever. The pain is so intense that it seems like it will last forever, but it doesn't.
My Positive Perspective is committed to the advancement and achievement of lives. Believing that tragedy is an inevitable trait of life and that with a positive attitude and positive actions even the worst tragedies can be overcome.