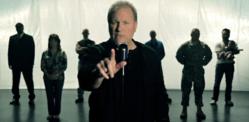 America belongs to We The People, not the politicians in Washington, D.C.
NASHVILLE, Tennessee (PRWEB) October 09, 2012
Country music artist Collin Raye is standing behind Gov. Mitt Romney's White House bid. But on Wednesday, October 10th, the multi-platinum award-winner will stand next to the Presidential candidate at a Romney campaign rally in Springfield, Ohio, where Raye will perform his new patriotic single, "Never Gonna Stand For This."
"I am honored to be able to perform before Gov. Romney," says Collin Raye. "I haven't delved into politics much in the past, but I felt it was time to help speak out and support the GOP during this campaign."
The official music video for "Never Gonna Stand for This" was released on October 8th, and the single is available now at iTunes. The timely song and video serve as a call-to-action for Americans that are frustrated with the current state of government.
In a unique partnership, Denver-based REM Beverages joined forces with Raye to produce the music video, and enlisted Raye for the official launch of Stand Strong™ (http://www.standstrongusa.com), a private label energy drink that was created specifically to support the fund raising efforts of Wish For Our Heroes (http://www.wishforourheroes.org).
"America belongs to We The People, not the politicians in Washington, D.C.," adds Raye. "God Bless our troops and God Bless the USA!"
Watch the "Never Gonna Stand For This" music video at http://youtu.be/4DsZaAw3xxs.
About Collin Raye
Since his debut in 1991, the ten-time Male Vocalist of the Year nominee has recorded 11 studio albums (5 certified RIAA platinum) and charted 30 singles on the Country Chart, with 16 #1 singles, including "Love, Me," "In This Life," "My Kind of Girl" and "I Can Still Feel You." Other hits include "Little Rock," "What the Heart Wants," "That's My Story," "Little Red Rodeo," "Someone You Used to Know," "Anyone Else," 'Couldn't Last a Moment," "I Think About You" and "The Gift" (with Jim Brickman and Susan Ashton). For more information, visit http://www.collinraye.com and Facebook.com/collinraye.
# # #