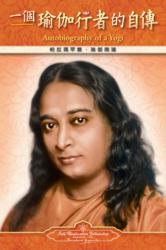 Los Angeles, CA (PRWEB) October 10, 2012
The book most frequently credited with starting people on their spiritual journey –– Paramahansa Yogananda's Autobiography of a Yogi –– has just been released in the first-ever Chinese language edition.
In addition to Chinese, the book has also been released this fall in Croatian, Norwegian, and Romanian, bringing the number of non-English language editions of the book to 30. The new Chinese language edition is available in Traditional Chinese (a version in Simplified Chinese is due out later this year).
Since its initial publication in 1946, this world classic has captured the hearts and minds of people from fields as diverse as academia, business, and popular culture –– from Harvard's Diana Eck to the Beatles' George Harrison, from renowned scholar and author W. Y. Evans-Wentz to pop star Madonna, from Apple, Inc. founder Steve Jobs to entrepreneur Russell Simmons.
When Autobiography of a Yogi was first released in English more than 65 years ago, it was hailed as a landmark work in its field. Since then, the bestseller –– expanded by the author in later editions –– has proven instrumental in introducing millions of readers to the spiritual wisdom of the East.
The book's popularity continues to surge today. Growing interest in yoga and meditation, as well as greater awareness of the Kriya Yoga teachings of Yogananda, have influenced sales of the book, which sold nearly 20 percent more copies internationally in fiscal 2012 over the previous year.
Yogananda's autobiography is both a fascinating portrait of one of the great spiritual figures of our time and a profound introduction to the ancient philosophy and science of Yoga and its tradition of meditation. With engaging eloquence and wit, Yogananda relates the experiences of his remarkable childhood, encounters with saints and sages during his search through India for an enlightened teacher, ten years of training in the hermitage of a revered yoga master, and the many years (1920-1952) that he lived and taught in the West.
In his colorful narrative, Yogananda conveys the essence of his mission to bring the yoga science to the West; reveals the underlying unity of the world's great religions; and sheds light on such eternal enigmas as the nature of God and the soul, the phenomena of death and life after death, the subtle cosmic laws behind both ordinary and miraculous events, and the ultimate mysteries of human existence.
Born in northern India, Paramahansa Yogananda (1893–1952) is revered as one of the pre-eminent spiritual figures of our time. He lived and taught in the U.S. from 1920, when he was invited to serve as India's delegate to an International Congress of Religious Liberals convening in Boston, until his passing in 1952. Through his life and teachings, Yogananda has contributed to a greater awareness and understanding in the West of the spiritual wisdom of the East. He founded the international society Self-Realization Fellowship (SRF) in 1920 to carry on his spiritual legacy.
Autobiography of a Yogi can be ordered through bookstores, online retailers, and the publisher's website at http://www.srfbooks.org. To learn more about books and recordings published by SRF, please contact: Self-Realization Fellowship, 3880 San Rafael Ave., Los Angeles, CA 90065; Tel. (323) 225-2471; http://www.yogananda-srf.org.