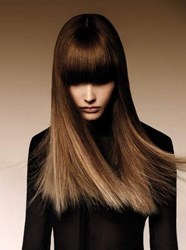 the latest beauty trends customers are attracted to
Miami, FL (PRWEB) October 10, 2012
With the advent of visual social media platforms like Pinterest those in the beauty market are able to discern the latest beauty trends customers are attracted to. The Hair and Beauty category of Pinterest sees thousands of pins every day, and data analyses indicate a per visitor average of 88.3 minutes. The beauty specialists at TheBeautyPlace.com find that there are particular hairstyles users "repin" or favor. The beauty specialists feature the top four hairstyles for Fall 2012.
The "Chic Ponytail" is a sleek and polished high crown ponytail and requires a small amount of effort and styling. First, a hair serum that protects against frizz and humidity is needed as the hairstyle is to look smooth. Rebecca, lead beauty specialists of TheBeautyPlace.com approves of the TIGI Rockaholic Rock Out Shine Blaster for its non-greasy delivery of shine and control of frizz. A flat hair brush is needed to smooth hair back, and a band to secure the hair. A lightweight finishing spray can be used to maintain all day form and for avoiding flyaways.
In 2012, magazines all over the world saw Beyonce, Zooey Deschanel, and Jessica Biel sporting bangs of all styles. "Bangs are the latest hair accessory equal to a fabulous mani-pedi done with the latest nail art designs", commented Rebecca. The beauty consultants commented whether bangs are full and thick or swept to the side, bangs frame the face and accentuate eyes. To style bangs, a hair dryer with ionic technology will prevent frizz and keep bangs looking smooth all day. The online company's best-selling styling tool is the Bio Ionic Powerlight Pro Dryer. At 1875 watts, it is one of the most powerful hair dryers ever made, and its infrared and negative ion technology allows for faster drying and eliminating frizz and static.
The upside down French braid is a favorite among beauty bloggers. One of the beauty consultants stated she dons this hairstyle on the weekends when running errands to keep hair tidy. It is done by flipping hair upside down and brushing hair from the nape of the neck and up. While keeping hair upside down, starting at the nape of the neck, a small chunk of hair is used to begin a French braid. The French braid should be continued until reaching the crown of head and hair is secured with a band creating a high ponytail. Next, hair is twisted into a bun and secured with another band. A hairspray with a flexible firm hold like Agadir Argan Oil Hairspray is applied to prevent flyaways.
The ombre is a French term that features darker more natural shades at the roots and a more highlighted shade at the ends. It's a hair trend that gives more flexibility in-between visits to a hair colorist. The beauty specialists stated they have numerous clients donning this trend. "There is the ombre mani, the ombre hair, and most recently ombre lips!" affirmed Rebecca, adding, "this look on hair is very versatile and whether hair is curly or very straight it looks great". Examples of the ombre trend are Khloe Kardashian going dark to light and Gwyneth Paltro going light to dark.
TheBeautyPlace.com is a leading online company offering professional hair care and skin care brands at affordable prices. They strive to offer a range of top brands to accommodate various beauty needs.
Follow TheBeautyPlace.com
On Pinterest: pinterest.com/thebeautyplace/
On Twitter: @TheBeautyPlace
On Facebook: Facebook.com/pages/TheBeautyPlacecom/125435188536?ref=ts
TheBeautyPlace.com Blog: blog.thebeautyplace.com