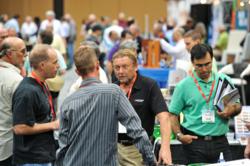 CONSTRUCT demonstrated once again why face-to-face meetings are still a critical component of professional development and business success.
Dallas, Texas (PRWEB) October 09, 2012
When Montee Sinquah danced his way onto the stage at CONSTRUCT 2012, the energy level in the room went through the roof and stayed there for the next three days. The Native American Hoop Dance is a storytelling device that has been part of local Phoenix culture since 1991, which is when the city began hosting the world's largest Hoop Dance competition. The story at CONSTRUCT 2012 was reflected in his movements and in subsequent keynotes and sessions as he told a story of struggle, of rebirth, and of victory.
The specification industry has certainly seen its share of struggle and victory, and the prevalent theme at the official convention of the Construction Specifications Institute this year was a sense of growth and a renewed focus on the importance of the specifications industry in construction. The audience of Specifiers, Architects, Engineers, Project Managers, Contractors, and Students were extremely engaged with exhibitors and peers across the expo hall floor.
Walter Marlowe, the President of CSI, was buoyed by the positive atmosphere. "The attendees really came away energized as a result of the superior networking and education that was delivered this year," he said. "CONSTRUCT demonstrated once again why face-to-face meetings are still a critical component of professional development and business success."
Attendees also shared the enthusiasm. "#CONSTRUCT was the most welcoming conference I have ever attended. We are like one big family," tweeted John M. Danes, CSI, CDT, a Consultant with ASSA ABLOY. Vivian Volz, of Architectural Specifications, agreed by stating, "[it has been] such a whirlwind of excellent people, learning, and sharing at CONSTRUCT 2012."
Digital engagement at show site matched the on-site engagement. Twitter use of the #CONSTRUCT hashtag reached over 14,000 individuals and 45% of all show attendees downloaded and used the CONSTRUCT mobile app. CONSTRUCT 2012 had 205 exhibitors investing in the show and total registered attendance was 2,529.
Attendance figures were down year-over-year while exhibitor participation remained consistent with 2011 figures. Our exhibitors reported that while there was less traffic than they had originally expected, they connected with the decision-makers they had planned to reach. A source from Momentive Performance reported, "I spoke to one specifier that worked with over 100 different architects so the lead quality has been very good."
Kevin Bryant from TDR Systems / CHUTES International agreed. "We normally only do CONSTRUCT every other year but we've signed up for 2013 and are excited about going to Nashville next year." Over 40% of all exhibitors for this year's show have already renewed for 2013.
Exhibitors and sponsors that participate in CONSTRUCT have direct access to decision-makers with billion dollar purchasing power that specify and source building products and services. Thousands of architects, engineers, contractors, specifiers, facility managers and other key professionals will be looking for new products, innovative solutions and the latest in technology for the institutional, industrial and commercial building industry.
CONSTRUCT 2013 will take place in the newly constructed Music City Center in Nashville, TN on September 24-27 2013. If you are interested in exhibiting, CONSTRUCT is currently in space draw for a one-time-only price of $29.50 per square foot until Friday, December 7th, 2012. For more information on attending or exhibiting in 2013, please visit http://www.constructshow.com
About Hanley Wood
Hanley Wood, LLC is the premier media and information company serving the residential, commercial design and construction industries. Through its operating platforms, the company produces award-winning digital and print publications, e-Newsletters, websites, marquee trade shows and events, market intelligence data and custom marketing solutions. The company also is North America's leading publisher of home plans. http://www.HanleyWood.com
About CSI
CSI is a national association dedicated to creating standards and formats to improve construction documents and project delivery. The organization is unique in the industry in that its members are a cross-section of specifiers, architects, engineers, contractors and building materials suppliers. The organization has 140+ chapters and more than 13,000 members. Monthly Chapter meetings allow members the opportunity to communicate openly with their counterparts and exchange information for successful project management.
CSI is renowned in the industry for its rigorous certification programs for professionals seeking to improve their knowledge of accurate and concise construction documents. CSI provides continuing education, professional conferences and product shows. For more information, visit http://www.csinet.org or call 800.689.2900.