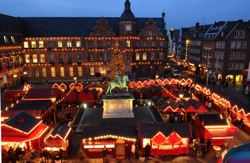 One of the brightest stars in Germany's holiday market landscape.
Düsseldorf, Germany (PRWEB) October 10, 2012
Düsseldorf's Christmas Market is German holiday and shopping fun at its best. From November 22 through December 23, 2012, Düsseldorf's Old Town becomes the site of one of the most successful concepts in traditional Christmas markets. Visitors find seven separate Christmas themes and attractions instead of one large market while strolling through the beautiful historic city center during the holiday shopping season. The city's excellent high-end shopping, primarily on shopping boulevards Königsallee and Shadowstrasse, adds even more options to the dazzling variety for visitors.
The innovative experience takes visitors through seven separate Christmas villages, each featuring a different theme, design, vendors, and attractions. Themes include "Angel's Market," with angels and thousands of lights turning the area into a sea of light; a village of artisans working on wrought-iron, glassblowing, and candlemaking; and booths that are replicas of Düsseldorf's historic town houses.
Düsseldorf's luxury shopping avenue "Königsallee," which dazzles shoppers all year long, is ablaze with holiday cheer, thanks to thousands of lights and decorations in the giant chestnut trees that line this elegant street.
The different formula for the city's historic Christmas Market has been attracting thousands more to Düsseldorf each holiday season since it was introduced several years ago, including many international visitors from the US and Russia, as well as nearby Belgium, Netherlands, France, and England.
The city's tourism office offers options for visitors who like to make the most out of their Germany Christmas experience, including a new seasonal walking tour through the festive Old Town, called "Advent, Advent," offered November 23 – December 22.
Moreover, visitors during the holiday season can add overnight stays for extended shopping and sightseeing, taking advantage of special Christmas Market hotel packages available through the city's tourism website. Specials are offered for stays between November 22 and December 23, 2012, and start at € 59 per person per double room and € 88 for a single room. All packages include breakfast, a Düsseldorf Welcome Card (free public transportation within city limits plus 30 free or reduced admissions to city attractions), and a city information package.
The market is open November 22 – December 23, 2012. For more information on Düsseldorf's Christmas Market, visit http://www.duesseldorf-weihnachtsmarkt.de.
For more information on special holiday hotel packages, visit http://www.duesseldorf-tourismus.de/en/hotel-packages/
For more information on the destination Düsseldorf, visit http://www.visitduesseldorf.de.
###
Düsseldorf Marketing & Tourism GmbH is the visitors and convention bureau of the city of Düsseldorf. Its responsibilities include tourism and city marketing, as well as conference and meeting marketing, hotel reservation services, fairs and convention services, city event ticket sales and advance ticket reservations. For more information, visit http://www.visitduesseldorf.de.
Düsseldorf International Airport, Germany's Next Generation HubTM, offers several non-stop flights from US & Canadian cities (Atlanta, Chicago, Ft. Myers, Las Vegas, Los Angeles, Miami, New York, Newark, Toronto, San Francisco, Vancouver), as well as convenient connections to many European cities. For more information about the airport, visit http://www.fly2dus.com and http://dus-int.de/dus_en/.