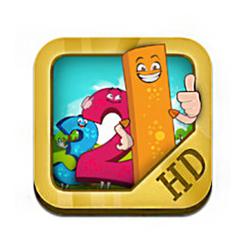 MyMathBook 2.0
Herndon, VA (PRWEB) October 11, 2012
Innolance's educational app, MyMathBook version 2.0 has finally been released! Innolance's team has been working hard to develop additional features to the iPad app, now including several new learn learning sections for young children.
MyMathBook embraces three critical techniques of Audio, Video, and Tactile learning. The iPad application is retina display optimized, which gives the app stunning visual effects to the users with retina enabled devices.
Innolance's MyMathBook app is a fantastic way for children to learn the fundamentals of Math in a fun-filled way. The app incorporates various interactive animations and illustrations to invoke children's interest of learning Math, making it much more than just a Math lesson.
The 2.0 version of the app now includes additional learning sections such as tracing shapes, identifying shapes, and coloring shapes. A test section has also been added, which awards users with a Gold, Silver, or Bronze badge based on their performance. Voice instructions have also been added to each learning chapter of MyMathBook.
The current features of the app include:
-Learning Numbers
-Learn to Count
-Trace Numbers
-Addition
-Subtraction
-Find the Missing Numbers
-Trace Shapes
-Color Shapes
-Identify Shapes
-Missing Numbers Test
-Addition Test
-Subtraction Test
-Identify Shapes Test
The MyMathBook app provides an easy-to-use interface that will not only entertain young children but will ensure that their learning takes place in the best possible environment. One of the major benefits of this app is that each child will be able to learn at their own pace. The purpose of MyMathBook is to teach children the fundamentals of Math and shapes, in a way that will increase their desire to learn, while familiarizing them with technology at a critical time in their lives.
The app is currently available on the iPad only; however, iPhone and Android versions of the app are under development and are expected to be released in the near future. The MyMathbook app has a Lite free version available for download, with limited functionality. The full HD version of MyMathBook is available for purchase in the iTunes app store for $1.99.
Innolance is an IT service provider based in the Washington D.C. area that is dedicated to offering innovative freelance solutions to our customers. Innolance focuses on Mobile and Web Application Development as well as Quality Assurance for various verticals.