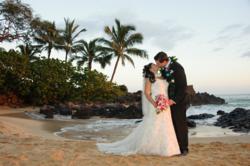 Koloa, HI (PRWEB) October 10, 2012
Hawaiian Style Weddings, one of Hawaii's leading wedding planning and coordinating concerns has created a bridal honeymoon registry for their wedding couples. This registry is not for the typical china and silverware that couples typically receive as wedding gifts. It does provide something more immediate and much appreciated in these tougher economic times. Their registry provides for the couples honeymoon and everything that goes along with that.
The Hawaiian Style Weddings registry which is free to their clients provides a wedding website, a blog, a photo's section and most beneficial a listing of honeymoon items the couple wishes to receive as wedding gifts. These gifts can be anything the couple desires including contributions towards their travel package, activities they wish to do while on their Hawaiian honeymoon, dining and other unique to the couple desired gifts. There is a service fee that Hawaiian Style Weddings coordinator Jana Rothenberg can go over with prospective clients.
Approximately 67% of today's wedding couples create a wedding website to share stories of how they met, their engagement, details for the wedding day, travel arrangements, etc. Guests enjoy learning more about you and this lets them feel like they are a part of the couple's special day. The Registry includes this and makes it easy to set up and manage. They can tell their story, include photo's and give details on their upcoming wedding.
The gifts can even be for the wedding costs themselves. Hawaiian Style Wedding packages are already affordable starting at $348 and the registry can be used to pay for that or the many available upgrades including photography, videography and reception options. These packages are available on the Islands of Oahu, Maui, Kauai and the Big Island of Hawaii.