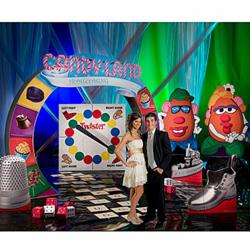 South Whitley, Indiana (PRWEB) October 09, 2012
Shindigz, an online party decorations store, announces a new line of Hasbro game-themed party props.
"Games from the past and popular ones from the present are colorful and filled with exciting characters," says Jacquie Downey, Shindigz Director of Sales and Marketing. "Our Hasbro party decorations are ideal for themed events, game nights, and school dances. We are so delighted to be working with the Hasbro team to be able to introduce this fun and exciting line."
Sweet 16 CANDY LAND Party
CANDY LAND, a childhood game that still holds a sweet spot for many teens and adults, is ideal for Sweet 16 parties filled with bright colors and sparkle. Guests enter their party venues under CANDY LAND arches. Large CANDY LAND directional signs and walkways are also available to turn a room into a life-size game board. Give guests a personalized CANDY LAND Candy Jar filled with sweets to take home as a party favor.
Game-Themed School Dance
The Hasbro games kit includes decorations inspired from games like TWISTER, SORRY, and even MR. POTATO HEAD, complete with removable eyes, nose and mouth. The Hasbro TWISTER Spinning Standee is almost 6-feet tall and matches the game's spinner board with a spinner that actually moves. Schools that have game-themed dances use many balloons and colorful party supplies to keep the mood light and fun for all in attendance.
CLUE Murder Mystery Parties
Hasbro's CLUE brand is now an adult dinner party, decoration sensation. CLUE murder mystery parties give guests opportunities to dress up as their favorite characters and to figure out who was the murderer, with what weapon, and in what room. Parties are made more fun with decorations like oversized CLUE graphics or the giant magnifying glass standee.
Retirement Parties Perfect for MONOPOLY
A new line of Hasbro party supplies from Shindigz offers life-size, MONOPOLY decorations, which are perfect for retirement parties. Party planners place giant MONOPOLY board standees and MONOPOLY houses standees around pictures of each retiree's life achievements. Take pictures with the retiree standing next to a large MONOPOLY Boardwalk Property Standee that has the look of a life size Boardwalk property card, complete with the blue stripe and rent charges.
About Shindigz
Shindigz "makes life more fun" for 22 million events, through the manufacture and sale of personalized party supplies and game party decorations. The company was formed in 1926 and has since shipped party products from its facilities in South Whitley, Indiana across the United States and around the world to 59 countries. With more than 34,000 products, Shindigz provides customers with complete party solutions. For more information about Shindigz, go to http://www.shindigz.com.
About Hasbro
Hasbro, Inc. is a branded play company providing children and families around the world with a wide-range of immersive entertainment offerings based on the Company's world class brand portfolio. From toys and games, to television programming, motion pictures, digital gaming and a comprehensive licensing program, Hasbro strives to delight its global customers with innovative, well-known and beloved brands such as TRANSFORMERS, LITTLEST PET SHOP, NERF, PLAYSKOOL, MY LITTLE PONY, G.I. JOE, MAGIC: THE GATHERING and MONOPOLY. The Company's Hasbro Studios develops and produces television programming for markets around the world. The Hub TV Network is part of a multi-platform joint venture between Hasbro and Discovery Communications, in the U.S. Through the Company's deep commitment to corporate social responsibility, including philanthropy, Hasbro is helping to build a safe and sustainable world for future generations and to positively impact the lives of millions of children and families every year. It has been recognized for its efforts by being named one of the "World's Most Ethical Companies" and is ranked as one of Corporate Responsibility Magazine's "100 Best Corporate Citizens." Learn more at http://www.hasbro.com.
© 2012 Hasbro, Inc. All Rights Reserved.