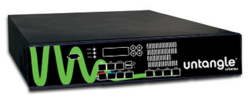 Sunnyvale, CA (PRWEB) October 15, 2012
Untangle, Inc., a network software and appliance company, today announced the release of a new line of appliances to extend the successful uSeries introduced earlier this year.
The mSeries appliances were designed to meet the needs of medium enterprises and larger educational institutions. The 2-U rack mount devices feature an integrated LCD screen with system status information displays and solid state drives. They ship with SSD-optimized Untangle 9.3, the fastest, most scalable version of Untangle to date. Customers have a choice of Untangle Standard Package or Premium Package, the trusted software application bundles already at work on networks worldwide.
Securing over 30,000 networks and 2 million users worldwide, Untangle® offers best-in-class protection against the threats of viruses, spam, hackers and malware, alongside robust content filtering and application control – everything customers demand from a unified threat management (UTM) device.
Untangle, however, also includes industry-leading performance enhancement capabilities with its Web Cache, Bandwidth Control, WAN Balancer and WAN Failover applications. Untangle also includes remote connection capabilities with its IPsec VPN and Captive Portal applications.
Availability and Pricing
mSeries appliances are available online at untangle.com or through an authorized Untangle reseller. All Untangle appliances are offered with an optional extended warranty and cold spare. Prices start at $13,695.
Appliances are sold with an annual software license, and may be upgraded at any time from Standard to Premium at a pro-rated price. See untangle.com for details.
About Untangle
Untangle, a network software and appliance company, provides the most complete multi-function firewall and Internet management application suite available today. Designed to meet the network policy demands of organizations large and small, Untangle's award-winning software now ships on easy-to-deploy appliances. Untangle's proven network software solutions are installed in over 30,000 organizations, protecting more than 2 million people and their computers. With its try-before-you-buy approach, Untangle enables organizations to take control of their network within minutes and at no risk. Untangle is located in Sunnyvale, California. For more information, visit untangle.com or call (866) 233-2296.
PR Contact:
info(at)untangle(dot)com
Untangle, Inc.