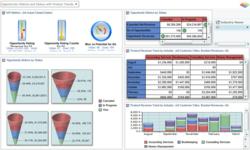 "Our biggest challenge was finding a replacement for ProClarity that was not only an infrastructure fit but would be something our users would be happy with" said Veronica Budwig, Director Enterprise Business Systems
Amsterdam, Netherlands (PRWEB) October 11, 2012
To replace ProClarity and leverage its 10-year investment in business intelligence solutions and Microsoft, Memorial Healthcare System chose Pyramid Analytics as the next generation business intelligence solution for the enterprise. "Our biggest challenge was finding a replacement for ProClarity that was not only an infrastructure fit but would be something our users would be happy with" said Veronica Budwig, Director Enterprise Business Systems – Operations Memorial Healthcare System.
With over 700+ users to support in senior management and finance, the important characteristics of choosing a new solution included an easy transition from a systems standpoint, enhancements to Analysis Services, leveraging their investments in cubes, custom members and most importantly an easy transition for their users.
Pyramid Analytics Business Intelligence (BI) Office Suite is an interactive self- serve analytics viewer that allows Memorial's users to leverage the rich functionality of Microsoft SQL Analysis Services, Reporting Services and PowerPivot. Operating either as a standalone analytic toolset, or integrated into Microsoft SharePoint 2010, Pyramid provides a complete solution for ad-hoc analysis, dashboards and reporting that is both intuitive and powerful. It delivers query performance comparable to the best of breed desktop software. Custom designed for the market leading BI product – Microsoft SQL Server Analysis Services – Pyramid's interface has both the familiarity and the seamless integration of Office productivity suite, yet provides powerful analytic capabilities. bioXL allows users to view trends, quickly isolate and investigate issues, drill down to details as required and drill across ("dicing") through other dimensions, providing users with the best access to 'Analysis Services' functionality to easily navigate and explore enterprise data stores. bioPoint allows business users to easily build and distribute interactive dashboards with the ease of creating a PowerPoint. Built from the ground up as a 64bit application, Pyramid's BI tools are designed to handle large datasets, and can be rapidly deployed to scale up to thousands of users, finally making enterprise BI truly cloud compatible.
About Pyramid Analytics
Pyramid Analytics - the innovative BI application that simplifies access to information to help organizations optimize their business. Pyramid Analytics delivers intuitive enterprise level Business Intelligence through an integrated, rich and highly scalable dashboard and analytic application for all types of business users. Using Microsoft's Office concept, the BI Office Suite is custom designed for Microsoft SQL Server Analysis Services and is accessed through a single, web-based interface that is both familiar and powerful.
Pyramid Analytics has a Microsoft ISV BI Gold Competency and is headquartered in the Netherlands with operational centres in Israel, the EU and the USA.
About Memorial Healthcare System
Memorial Healthcare System is the fifth-largest public healthcare system in the country and a national leader in quality care and patient satisfaction. Its facilities include Memorial Regional Hospital, Memorial Regional Hospital South, Joe DiMaggio Children's Hospital, Memorial Hospital West, Memorial Hospital Miramar, Memorial Hospital Pembroke and Memorial Manor nursing home.
For more information contact:
Ashley Stewart, Pyramid Analytics
ashley(at)pyramidanalytics(dot)com