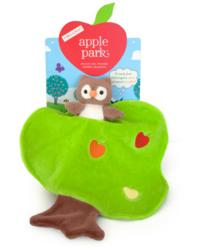 It's a cuddly blankie, finger puppet and rattle all in one!
San Francisco, CA (PRWEB) October 11, 2012
Organic toy company Apple Park puts an outdoor experience immediately at hand with their new park-inspired finger puppet rattle blankie. Deigned to showcase three of Apple Park's Picnic Pal characters in their environments, the blankies are not only fun, but also educational and eco-friendly. No time to get the kids to the park today? No problem!
Each multi-colored blankie includes a Picnic Pal plush finger puppet that rattles and is attached to a corresponding environment: Who is in a tree with embroidered apples, Lamby is in a meadow with flowers and Ducky is in a pond with goldfish. These blankies will be cuddled and chewed by newborns to toddlers and Apple Park prides in manufacturing a 100% through-and-through organic product. Numerous "so-called" organic plush products are stuffed with polyester and knowing of the risks associated with polyester, Apple Park fills all plush products, including finger puppets with organic corn fiber and cotton.
Apple Park's Finger Puppet Rattle Blankie is $23 MSRP. They will be featured at the upcoming ABC Kids Expo in Louisville, Kentucky from October 14th – 17th. Each product is made from 100% organic cotton, stuffed with hypoallergenic sustainable corn fiber and minimally packaged with recycled paper printed with soy ink.
About Apple Park
Apple Park designs and manufactures eco-friendly and luxurious products for babies and children using only the finest organic, sustainable and recycled materials. http://www.applepark.com