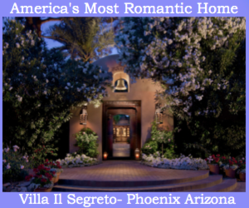 This is a truly special home in the heart of the desert.
AmazingDwellings.com
New York, New York (PRWEB) October 16, 2012
Where is the most romantic home in America? According to the editors at Amazing Dwellings, the most romantic home is not in New York, California, or even Texas. America's most romantic home is right in the middle of the desert in Phoenix Arizona. The private residence, named Villa Il Segreto or "The Secret", has been named the most romantic home in America.
According to the editors of Amazing Dwellings, Villa Il Segreto was chosen because it is unlike anything they have ever seen before in the Phoenix, Arizona home market. Il Segreto is a classic 1935 european style adobe villa located in the heart of Phoenix Arizona's Biltmore District.
This luxury compound was originally designed by famed architect Robert T. Evans for his own private residence. Recently updated by designer Kristin Austin-Jacob,it is no wonder that this Luxury Compound has been named "The Most Romantic Home in America." Throughout its illustrious history, this Arizona home has been the visited by the Hollywood Elite, Presidents, Athletes, Senators, and more. According to the editors at Amazing Dwellings, this European Country Estate is one of the most romantic, appealing, and sensual homes they have covered.
Il Segreto, "The Secret", is nestled inside a private gated compound, and the home and its gardens have been featured in numerous periodicals, including multiple books and magazines on architectures, gardening, and design.
The Editors of Amazing Dwellings say,"Once you immerse yourself in this 4-bedroom luxury home in Phoenix, you never want to leave." "Truly an amazing home in the middle of the desert".
ABOUT AMZING DWELLINGS:
AmazingDwellings.com is passionate about spectacular homes. Established in 2011, Amazing Dwellings features America's most delectable homes for its readers pleasure.