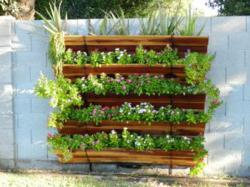 Vertical gardening gaining popularity around Phoenix
Phoenix AZ (PRWEB) October 11, 2012
The valley of the sun can now offer a new solution to those who wish to grow their own vegetables, herbs, or flowers in a garden that is not only aesthetically pleasing but also practical and eco-friendly.
This new shift into a more sustainable and environmentally conscious system of gardening was brought to life in the backyard of the Billingsley family.
With the encouragement of many friends and family members they continued to refine their design and began to make their measurements for distribution.
Alex and his son Ian began to ask each other: 'what is it that not only our home could use...but what is it that our community could really benefit from?'
They decided that the world of gardening would be a good place to start. Now they're out growing this dream into fruition by doing personal installations at the homes of eager gardeners within our community.
This patent pending product features a multi-tier design and system of water flow that is extremely effective.
With the advent of this easily assembled product you can be apart of a grass roots movement that has its sights set on organic, urban gardening. Get Growing Arizona!
Contact Alex @ 602-327-6560 with any questions and visit us @ http://www.flowerstreeturbangardens.com