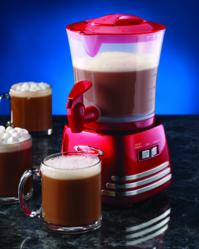 Green Bay, WI (PRWEB) October 11, 2012
The falling leaves and chill in the air are reminders that Old Man Winter's arrival is imminent. To escape his icy grip, many will turn to their local barista for a comforting – and most likely pricy – cup of hot cocoa. Nostalgia Electrics' latest addition to the Retro Series line of novelty kitchen electrics, the Hot Chocolate Maker, invites consumers to indulge in rich, steamy blended drinks at a price that's easy to swallow. With a suggested retail price of $29.99, this affordable hot beverage blender is available in red or black at a variety of fine retailers including Bed Bath & Beyond, JC Penney, Meijer and Shopko.
The Hot Chocolate Maker is an easy-to-use appliance that whips everyone's favorite hot beverages to frothy perfection in no time. Simply fill the container with water or milk to the suggested serving lines indicated on the pitcher, add shaved chocolate or store-bought mix, and flip the switch. Watch as the beverage heats and blends to a creamy, clump-free consistency. With its large 32-ounce capacity, the whole family can indulge in a delicious, steamy cup of cocoa within minutes. This versatile Hot Chocolate Maker also blends café lattes, tea lattes, café mochas and more, making it a multipurpose yet affordable addition to any home.
Product Features:

Generous 32-ounce capacity
Serve through the dispensing spout or pour from the pitcher-style container
Heat/froth and froth settings
Convenient cord storage
Recipes included with instruction manual
The HOT CHOCOLATE MAKER is distributed by:
Nostalgia Products Group, LLC
1471 Partnership Dr.
Green Bay, WI 54304-5685
About Nostalgia Products Group, LLC:
Nostalgia Products Group, LLC, designs, manufactures and markets the Nostalgia Electrics brand of small electric appliances. Nostalgia Products Group, LLC also develops a wide range of innovative products to excite consumers and retailers alike, such as the Hot Chocolate Maker. Their products are sold through all major channels of distribution from both within the United States and worldwide. Retail and e-retail sales include all major department store chains, home shopping networks, catalogs, and e-commerce companies. Internationally, NPG products carry the GS and SSA electrical approvals. They ship to over 30 countries worldwide. Services include product development, sales, marketing, warehousing and distribution. Please visit Nostalgia Products Group, LLC online at: http://www.nostalgiaelectrics.com.
For more information, please contact:
Sales and Marketing
Nostalgia Products Group, LLC
Phone: 920.337.9800 * Fax: 920.337.9984 * E-mail: gbond(at)nostalgiaelectrics(dot)com
For media inquiries, please contact:
Mary Rozwadowski
Nostalgia Products Group, LLC
Phone: 920.337.9800, x153 * E-mail: mrozwadowski(at)nostalgiaelectrics(dot)com
###