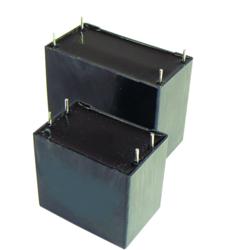 Liberty, SC (PRWEB) October 11, 2012
Cornell Dubilier announces the release of its type BLC high energy density board mount DC link capacitors for medium power inverter systems. Type BLC capacitors are an excellent choice for demanding applications in inverters for wind and solar energy, electric vehicles, motor drives, UPS systems, and more.
Available in values 8 to 55 µF and voltage ratings ranging from 700 to 1100 Vdc, type BLC DC link capacitors are packaged in UL94V-0 plastic boxes with 4 pins for low equivalent series resistance. These capacitors are designed for long life at high ripple current, up to 36A, with a demonstrable 25 year life under typical operating conditions.
In OEM quantities, Type BLC capacitors are available with pricing from $4.00. Samples are available in 4–6 weeks, production in 8–10 weeks. For quick sampling and prototype quantities, type BLC capacitors are readily available from CDE's electronic distribution partners.
Since its founding in 1909, Cornell Dubilier has been dedicated to advancing capacitor technology for new applications. The company combines innovative products with engineering expertise to provide reliable solutions for inverters, wind and solar power, electric vehicles, power supplies, motor drives, HVAC, motors, welding, aerospace, telecom, and UPS systems.
A global company, Cornell Dubilier has ISO-9001 certified manufacturing and distribution facilities in Liberty, SC; New Bedford, MA; Mexicali, Mexico; and Shenzhen, China.
For inquiries, contact:
Ann Rodrigues-Leca
Product Marketing Manager
arodrigues(at)cde(dot)com
Phone: (508) 996-8561 x 218