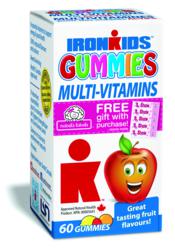 We are delighted to be working with another fantastic Canadian company.
Burlington, Ontario (PRWEB) October 12, 2012
Now parents have one more reason to stock up on IronKids Multivitamins for kids. While quantities last, inside 25,000 specially marked boxes of IronKids Multi Gummy Vitamins for kids, there is a unique coupon code for a free Mabel's Labels Sample Pack.
Look for the "Free Gift with Purchase" label on our popular IronKids Multi at any of the following retailers: Shoppers Drug Mart, Rexall, Loblaws, Real Canadian Super Store, Sobeys, Metro, London Drugs, Lawtons, Jean Coutu, Overwaitea, Fortino's, PharmaSave, Walmart and Safeway.
The promotion is part of a joint campaign to encourage Canadian families to teach kids healthy habits. In November, Mabel's Labels will be hosting an Ask an Expert chat on their Facebook fan page where parents can ask a Registered Dietician their health and nutrition questions.
"We are delighted to be working with another fantastic Canadian company," says Life Science Nutritionals Social Media and Customer Connections Manager, Deborah Lowther. As a mother of three young girls, Lowther understands what it's like to search for the stuff kids leave behind.
"Mabel's Labels are a staple in our house. The kids use them for everything they take to school and we label everything we use while staying active: our water bottles, ski's, bikes, running shoes and even goggles! They don't come off!"
IronKids first introduced their popular kids multivitamin in 2007. The all-natural gummy quickly became a hit with kids and parents alike thanks to their yummy fruity flavor and high quality ingredients. Today, the IronKids Multi is part of a complete product line of gummy vitamins for kids that includes Omega 3, Calcium, Vitamin D and Fibre.
Don't wait to pick up your IronKids Multi with the Free Gift Inside as quantities are limited!
About Life Science Nutritionals
Founded in 2005 by health and nutrition expert, Stuart Lowther, Life Science Nutritionals specializes the manufacture of premium quality gummy vitamins for kids and adults, under the trade names IronKids and Adult Essentials. Our focus is developing innovative vitamin formulations that make taking your daily vitamins fun (and tasty)!
About Mabel's Labels
Award-winning Mabel's Labels® is the leading provider of labels for the stuff kids lose!® Founded in 2003 by four moms who were frustrated by their children's belongings leaving home, never to return, the company's growing line features durable waterproof name labels plus child safety products, household labels and seasonal items. Products are sold worldwide through http://www.mabelslabels.com and across North America via fundraisers at schools, daycares, camps and other organizations.