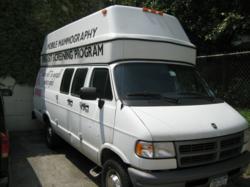 "When we go to corporations, we save the company and the patient's time," says administrator Donna Donato.
Jamaica, NY (PRWEB) October 11, 2012
In operation for more than 25 years, Multi-Diagnostics Services, a mobile and on-site diagnostic service provider, has saved countless lives while providing mobile mammography, ultrasounds, CAT scans, MRIs, echocardiograms, x-rays, bone densitometry and vascular studies.
Using its portable, digital equipment, Multi-Diagnostics has performed more than 200,000 mammograms in at least 15 states.
Whether it is providing services to nearly a dozen Fortune 200 Companies, the New York State psychiatric and correctional facilities or churches, charities and office buildings, Multi-Diagnostics Services brings its state-of-the-art digital equipment to its patients' facilities for convenient and private screenings.
Its mobile units are only staffed by females—from the nurse practitioner who performs the breast exams and provides educational information to the technologist to the driver of the bus.
"When we go to corporations, we save the company and the patient's time. Patients are back at work in fifteen minutes resulting in minimal loss of productivity for the company (in lieu of taking a day off) and patients have no wait time for their exam. How many people can say they have an appointment at 10:30 and they are seen at 10:30,"says administrator Donna Donato.
In addition to its mobile services, Multi-Diagnostics Services also performs Screening and Diagnostic digital mammograms, ultrasounds, bone densitometry and x-rays on-site at its Jamaica facility, open seven days a week.
While screenings are offered to both insured and uninsured, many patients of Multi-Diagnostics Services are uninsured and screened through the New York State Department of Health Cancer Screening Program.
If you are interested in scheduling a screening at your facility, contact Donna Donato at 718-454-8556.