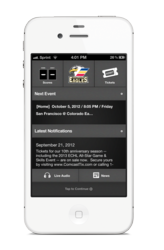 Onseeker has done a great job of keeping our app fresh and listening to our feedback with this latest version.
Houston, TX (PRWEB) October 10, 2012
The staff at Onseeker® leveraged the feedback of thousands of fans and nearly one hundred sports teams currently using their platform to create this latest update to their extremely popular sports team apps. Their goal was to create a version of their app platform that was both engaging for fans, and revenue generating for teams. With Version 3.0, a perfect balance was struck and teams are already reaping the benefits of their newly updated apps.
"Onseeker has done a great job of keeping our app fresh and listening to our feedback with this latest version," said JP Puma, Manager of Communications for the Colorado Eagles. "I've personally seen features added that I've requested, and fans really appreciate the polish. The team at Onseeker doesn't just make great apps, they're also fantastic people who care about the quality of their work, the integrity of customer service, and the feedback of the teams they work with."
The road to Version 3.0 started back in 2010 with the launch of their first sports team app platform. Version 1.0's turn-key solution was purely informative and provided team information at-a-glance. In 2011 Version 2.0 introduced a customizable dashboard, heads-up display, shopping cart functionality, and in-app advertising. With the September 2012 launch of Version 3.0, dozens of features and enhancements have been added to make it Onseeker's most fan-engaging platform yet. The integration of trivia and voting games, google analytics, a fully re-built dashboard and a refreshed user interface, has propelled Onseeker® further ahead of it's competition - and teams are seeing incredible download numbers as a result.
"We've seen many teams have app download numbers 2-3x higher than the total number of seats in their particular venue, so teams are very aware that fans are connecting and engaging even if they're not attending a game" said Frank Danna, Communications Director at Onseeker®.
For many teams that Onseeker® works with, appealing to their existing advertising base was a necessary feature. With version 3.0 teams have over 7 different advertising or sponsorship locations that they can take advantage of throughout their app.
"With the new App 3.0 release, the Wolves will have the ability to feature a Player-Of-The-Week, which we will also integrate with the new fan voting capabilities. Fans will vote and we will then feature the chosen player on our website and social engagement platforms" said Christina Moritz with the Chicago Wolves. "We'll also encourage our fans to vote for the Player-Of-The-Week on our game broadcast. With the success of this campaign, we hope to integrate more of our digital-minded sponsors into the app."
"Also new this season is the fan trivia technology" Christina continues. "The Wolves will reward fans that can answer trivia questions correctly with online merchandise discounts, driving traffic to our mobile store, and also serving as a model for potential sponsors looking for coupon redemption. But most of all, the in-game scoring feature is key in promoting the mobile app. With fans constantly on-the-go, we have been able to provide scoring updates and schedule information right in their pockets!"
For fans, sports team apps are a no brainer. Imagine hearing your favorite team just made the playoffs at a local restaurant, and pulling out your phone to order tickets on the spot, right from their app. During the game, teams can sponsor trivia contests, send personalized coupons to fans, offer updated player stats, showcase in-game scoring, and deliver streaming content to the fans both in the stands and to those who didn't make it to the event.
"I've been using the Houston Aeros app for the past two years, and it continues to get better and better" mentioned Andrew Blake, a longtime fan of the Houston Aeros hockey team. "I'm more excited than ever for their season to start, and I'm really glad they've got an amazing app. I use it constantly to check schedule details, and this new update makes it even easier to find what I need."
The Onseeker® Technologies Mobile App Platform for Sports Teams is available for iOS and Android platform phones and tablets. Sports teams purchase the yearly app license, and set up their team's mobile 'front office' via a superbly designed web CMS dashboard. Once the app is listed in the mobile vendor's app store, fans can download the app in seconds. Most teams make the app available free of charge because of the real-time connection it provides.
To learn more about Onseeker® Technologies, please visit http://www.onseeker.com. For a full demonstration of the Sports Team App, contact Roy Gonzalez at 281-664-7953 or visit http://www.onseeker.com/apps-sports-team-features.html for more details.
About Onseeker® Technologies:
Onseeker® Technologies is one of the largest mobile app developers in the United States. With over 200 apps developed and deployed they continue to provide their clients exceptional apps at remarkable prices. Onseeker® excels in providing platform based apps for sports teams, churches and ministries, authors, radio stations and restaurants. They also develop custom applications and mobile sites for companies looking to take their experiences mobile.
Media Contact:
Frank Danna
281-664-7951
###