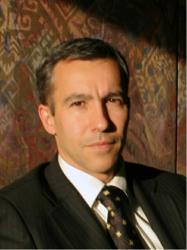 The market is telling us there is a need to combine (different levels) of expertise
Vancouver, B.C. (PRWEB) October 10, 2012
(Financial Press) - When Nicolas Bonnafous launched his information information technology company in Montreal in 1998 he wanted a name that would symbolize the transformational change he wanted to offer his clients.
He was inspired by that extraordinary miracle of nature in which the tiny caterpillar breaks free of its cocoon to emerge transformed as a thing of grace and beauty.
"We thought it was a good idea to name the company in a creative way that would suggest the idea of the transformation from data to information, and from information to the vision of a company," says Bonnafous.
He settled for the name Odesia, an unusual European species that, unlike its nocturnal cousins, prefers to soar in the full light of a summer's day.
The choice was apt — perhaps more so than Bonnafous could have hoped.
Odesia has transformed the progress of many Fortune 500 enterprises over the past 14 years. And now the company itself is undergoing a major metamorphosis. Just like the butterfly, Odesia Group Inc. is shedding its former skin to re-emerge with wings spread wide.
In 1998, the company specialized in traditional business intelligence and IT consulting services.
Now it is fully engaged in complex areas such as business process management and Big Data analytics that were virtually unheard of 15 years ago.
Bonnafous points to milestones along the way, including a newly recruited team of seasoned senior managers.
Bottom line results have shown steady improvement.
Despite the recession in 2008, the company has almost doubled annual revenues since 2005 and this year (2012) is on track to surpass 2007's record high of $17-million.
Says Bonnafous: "This is just the beginning."
To achieve his goal of becoming a full-service, medium-size player in the $3.8 trillion global IT services industry, he has embarked on an aggressive strategy of acquisition.
Bonnafous likens it to assembling the pieces of a giant puzzle. Each piece must add a new dimension to the company's menu of services.
For example, in September Odesia bought privately held Gestion Passerelle Inc., a global IT talent networking firm with a reputation for equipping enterprise level customers with experienced IT professionals.
"Passerelle will become the recruiting arm of Odesia," says Bonnafous.
Passerelle has a database of more than 8,000 IT experts worldwide, including top BI and Big Data analytics.
The company also has an impressive client mix within the financial services sector — Odesia's new bull's eye target market.
Earlier in 2012, Odesia acquired Interfacing Technologies, a business process management company with an award-winning software product line.
The company boasts solid industry partnerships, global distribution to enterprise level customers and a presence in key growth markets, such as Asia Pacific.
Each of these acquisitions is expected to add upwards of 25 per cent to Odesia's annual revenues.
"The market is telling us there is a need to combine (different levels) of expertise," says Bonnafous. "We're open to any opportunities, and if they involve a new technology then we go out and recruit the guys who have that knowledge. Our mission is simple: act, acquire, integrate and deploy."
An important new subsector for Odesia is Big Data analytics.
Big Data, which employs ultra-sophisticated software technology to interpret a mind-boggling flow of information, is growing more than seven times faster than the overall IT market.
A 2012 Deloitte Canada report showed a 333-per-cent compound annual growth rate in Big Data between 2009 and 2012 — from a mere $100 million to $1.5 billion.
Bonnafous says that analyzing this tsunami of data is beyond the reach of traditional IT departments, even though its interpretation can determine the success or failure of an enterprise.
(Walmart processes more than one million customer transactions every hour, which is imported into databases estimated to contain more than 2.5 petabytes of data, the equivalent of 167 times the information contained in all the books in the U.S. Library of Congress.)
"Many CIOs will realize that their companies will not survive unless they start looking outside their own walls — and 80 percent of the data they need is outside their walls," says Bonnafous.
"Big Data is evolving so rapidly that it would be nonsense for a human being to try to define it. The answer is, you don't try to control it — you try to at least get an understanding of it through BI — and that's what Odesia can do."
Bonnafous' first target is to consolidate the company's position in the Canadian and European markets over the next 12 months before pushing out into new U.S. and Asia Pacific markets.
Within three years, he's aiming for a five-per-cent market share and a top 20 ranking and hopes to graduate from the TSX Venture Exchange to one of the major exchanges.
On a personal level, Bonnafous sees his progress as a journey of transformation no less dramatic than that of the butterfly itself.
"It has been a transformation of myself from entrepreneur to a new role as president and chief executive officer. You don't learn that in university. You can't do it in a day, you have to learn and you have to listen and you have to make sure you have a strong board."
A father of four, married for more than 20 years to Nancy, his high school sweetheart, Bonnafous draws a line between family and work and expects his 120 full-time employees to do the same.
Twice a week he plays soccer with a local league that fields a team of fathers and sons, including his own 18-year-old son.
"It's punishing to play with young guys. It's hard to keep up with them," says the 46-year-old. "But I think it's important to look at what sports tells you — about competition, about the importance of a team and the importance of how you express yourself outside your domain of expertise.
"I don't want to hire people who are dedicated 100 per cent to their work. That would be nonsense for me. I need them to also focus on their family, on all kinds of activities outside their professional world, to be well-rounded in every way."
Legal Disclaimer/Disclosure: A fee has been paid for the production and distribution of this Report. This document is not and should not be construed as an offer to sell or the solicitation of an offer to purchase or subscribe for any investment. No information in this article should be construed as individualized investment advice. A licensed financial advisor should be consulted prior to making any investment decision. Financial Press makes no guarantee, representation or warranty and accepts no responsibility or liability as to its accuracy or completeness. Expressions of opinion are those of the author's only and are subject to change without notice. Financial Press assumes no warranty, liability or guarantee for the current relevance, correctness or completeness of any information provided within this article and will not be held liable for the consequence of reliance upon any opinion or statement contained herein or any omission. Furthermore, we assume no liability for any direct or indirect loss or damage or, in particular, for lost profit, which you may incur as a result of the use and existence of the information, provided within this article.