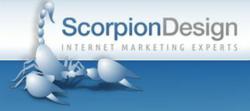 Valencia, CA (PRWEB) October 09, 2012
Attorney marketing company Scorpion Design has provided a sponsorship to the National Association of Criminal Defense Lawyers (NACDL) that will enable the association to have defense attorney F. Lee Bailey as a featured speaker at its 16th Annual DUI Seminar. The event, titled the DWI Means Defend With Ingenuity® seminar, is the largest gathering of DUI defense lawyers in the United States. The event is also referred to as the "Getting the 'Not Guilty' Vote" seminar.
With Scorpion Design's sponsorship, legal professionals attending the seminar will be able to learn from a world-renowned criminal defense attorney. Bailey is known for successfully defending individuals in high-profile cases, including the O.J. Simpson murder trial and the Sam Sheppard retrial in the 1960s. Sheppard was a doctor who served time in prison for allegedly murdering his wife and was later released after a second trial resulted in a "not guilty" verdict. Sheppard's case inspired the television series and film "The Fugitive."
At the seminar, defense lawyers will have the opportunity to learn about the latest scientific and legal strategies, which can be used to help them improve their success while representing their clients in trials. They will also be able to network with more than 600 of their professional peers. Other featured speakers at the event will include Bubba Head and W. Troy McKinney.
The NACDL is a professional bar association for criminal defense lawyers that was founded in 1958. The association's members are made up of private criminal defense lawyers, public defenders, active U.S. military defense counsel, law professors and judges. The association's main focus is to ensure that justice and due process is upheld for individuals accused of crimes. The NACDL has about 10,000 direct members in 28 countries, as well as 90 state, provincial and local affiliate organizations that include up to 40,000 attorneys.
Located in Valencia, California, Scorpion Design provides website design and internet marketing services for attorneys and law firms throughout the country. The company has won several awards this year, and in recent years, from the Web Marketing Association for its leading website designs, as well as for its ability to design websites with optimal quality for mobile browsing.
With the goal of always putting customer care first, Scorpion Design works closely with its clients to design marketing campaigns that will best serve their needs and exceed their goals. The company specializes in search engine optimization, which helps make clients improve their website rankings so they can stand out in a competitive market. More information about Scorpion Design is available at http://www.ScorpionDesign.com.