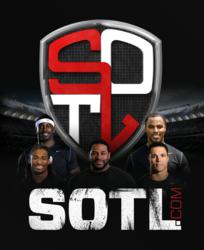 "I understand some fans may boo when a player isn't playing to his potential, but to cheer when he gets hurt is in itself disgraceful," said former Chiefs Quarterback Quinn Gray.
Nashville, TN (PRWEB) October 09, 2012
The NFL had a gravely disturbing moment this past Sunday, when some fans in Kansas City cheered after their own quarterback, Matt Cassel, left the game with a head injury. Those cheers erupted at a time when even casual fans are learning that head injuries often have lifelong consequences for the players who endure them.
Equally jarring was the fact the home fans celebrated one of their own getting battered, and that this all occurred in what's thought to be a mild-mannered Midwest market, not some tough-as-nails East Coast metropolis. Among those saddened by the cheers is Mike Bell, a former first-round choice of the Chiefs who spent all 12 years of his NFL career in Kansas City, from 1979-91.
"I don't see where there's a place to cheer a guy who gets hurt," Bell told SOTL.com. "It's his career."
Bell, who played defensive end, said that perhaps some Kansas City fans were cheering because they would get to see Brady Quinn take over at quarterback, a move many have called for while Cassel struggled with turnovers this season.
"I think if you looked in the heart of all the people who did that, they're not really happy Matt Cassel is hurt," said Bell, who was at the game. "Some of them were cheering more for a change."
But either way, Bell said, "I'll bet those people now wish they didn't do that."
Bell expects Chiefs fans will attempt to atone at their next home game, Oct. 28 against Oakland.
"I think they will," Bell said. "If they see Matt on the sideline or wherever, I think there will be applause, something that says 'We're sorry, we didn't mean it.' "
Bell said the situation was probably best addressed by Chiefs offensive lineman Eric Winston, who took his case to the news media after Baltimore's 9-6 victory at Arrowhead Stadium dropped Kansas City to 1-4.
"We are not gladiators and this is not the Roman Colosseum. This is a game,'' Winston told reporters.
Many current and former NFL Players voiced their opinion on their social media site, SOTL.com and continue to post comments on the site.
"I understand some fans may boo when a player isn't playing to his potential, but to cheer when he gets hurt is in itself disgraceful," said former Jacksonville and Kansas City Quarterback Quinn Gray. "But as a former Chief I don't believe those fans were cheering about Matt Cassel getting hurt more so as they were cheering for Brady Quinn getting an opportunity to spark a team that was struggling to move the football up and down the field."
New England Pro Bowl cornerback Devin McCourty shared his thoughts as well.
"It is sad that a person could cheer for a play where a man was hurt and possibly had a concussion," said McCourty. "I thought Eric Winston did a great job of defending his quarterback and those people should feel horrible about their actions."
"After playing 12 years and having very few winning seasons I have heard my fair share of boos, but never for an injured player," said former Green Bay offensive lineman and first-round draft pick Ron Hallstrom. "It's easy to be critical of what's happening on the field, but this by no means gives a fan the right to humiliate an injured player. Class and dignity are two things that are learned, you are not born with them. We know that not 'all' Chiefs fans are this tasteless. Please show these men the respect they deserve!"
For the full story and player comments, visit http://www.SOTL.com
More About School of the Legends / SOTL.com & SOTLTraining.com
SOTL.com was founded in 2009 as a social media partner of the NFL Players Association and serves as "The Voice of the Players"™ with more than 2,500 current and former players contributing to the site. SOTL.com features weekly football and lifestyle blogs by dozens of NFL players and alumni, including Jerome Bettis, Barry Sanders, Patrick Peterson, Will Smith, Dwayne Bowe, Cliff Avril and others. SOTL.com is the player's site where they comment directly on football news stories of the day and contribute to exclusive player polls that give fans their perspective on the league's most important issues.
The sister site, SOTLTraining.com, is the premier online source for football training classes with the instructional video series "Legends in Training" that feature players such as Peyton Manning, Larry Fitzgerald and Tony Gonzalez to name a few as well as instruction from professional coaches and trainers. SOTL.com and SOTLTraining.com are official licensed partners of NFL Players, Inc.