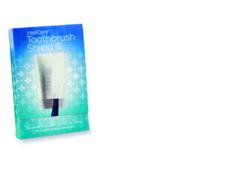 Vero Beach, FL (PRWEB) October 11, 2012
In honor of National Dental Hygiene Month, IntelliDent, with its Toothbrush Shield, will join companies such as Wrigley, Cigna and McDonalds in promoting good dental hygiene practices.
In Philadelphia, IntelliDent will donate thousands of toothbrush shields to the Ronald McDonald Care Mobile, which is a two-chair clinic on wheels dedicated to providing diagnostic, preventative and restorative dental care to qualified patients ages 1 to 8 at no cost to their families. Launched in 2001, the mobile unit provides examinations, cleanings, fluoride and sealant treatments, x-rays and fillings, as well as general dental hygiene instruction.
Dentists nationwide continue to stress the importance of dental hygiene techniques. Seeing the dentist regularly, flossing, and daily brushing are key, and most people recognize this. But ongoing research in the area of bacteria in our mouth as it relates to plaque in our arteries is slowly leading patients and professionals to recognize that gum disease might be a sign of heart disease.
The Toothbrush Shield provides protection by prevention. It is a breathable, quick drying shield that acts like a surgical mask for your toothbrush. Laboratory tested to be 99.9 percent effective against airborne and surface bacteria, it helps prevent re-entry of bacteria into the mouth. Studies show an exposed toothbrush is at risk for contamination when stored in a shared cup or holder with other brushes, enclosed in a dark space that can breed germs, or stored in close proximity to a toilet, which can contaminate within a six-foot radius.
The Toothbrush Shield is ideal for travel, home, work and everywhere in between. To request a free sample, visit http://www.toothbrushshield.com.
About IntelliDent
Through research and development, IntelliDent brings to market oral care products designed to make life's simple routines healthier by utilizing protection as means of prevention. IntelliDent's flagship product, The Toothbrush Shield, is redefining and creating a new category for oral care. IntelliDent, a division of E4 Technologies, was founded in 2010 by Susan Klinsport of Vero Beach, Florida.