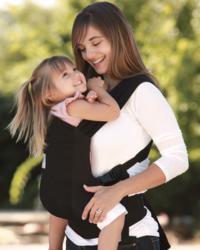 Today's parents like to have options, so with the Moby GO we listened to our customers and built the incredible comfort of our Moby Wraps into a soft structured baby carrier
Louisville, KY (PRWEB) October 11, 2012
Moby Wrap, the leader in wrap baby carriers, is proud to announce that now parents can continue to carry their older babies in unmatched Moby comfort thanks to the brand new Moby GO. This new carrier is designed for babies and toddlers from 15lbs to 45lbs, and its ergonomic design will help keep growing children comfortably close while allowing the whole family to freely explore new activities.
The Moby GO offers wide shoulder straps and an innovative cross-shoulder design that evenly distributes a child's weight. Easy-to-reach, adjustable side buckles ensure the perfect fit and ease of use, and the unique dual foam waist belt provides support and softness for the parent at the same time.
"Today's parents like to have options, so with the Moby GO we listened to our customers and built the incredible comfort of our Moby Wraps into a soft structured baby carrier," says Gillian Beerman, founder of Moby Wrap Inc. "Our carriers are meant to keep babies, toddlers and parents happy and comfortable while providing an ideal environment for healthy child development."
Constructed from soft, durable fabrics, the Moby GO is offered in three colors: Black, Gray and a print, Barberry. The Moby GO retails for $79.95.
For more information contact:
Kristen DeRocha
Moby Wrap Inc.
Kristen(at)mobywrap(dot)com
888-629-9727 x 219
About Moby
Moby Wrap Inc., maker of award-winning baby carriers, was founded in 2003 by parents who are passionate about babywearing. They set out to create a comfortable, secure and versatile way to carry infants. Moby Wrap products are available in stores across the U.S. and in 28 countries. For more information, visit http://www.mobywrap.com