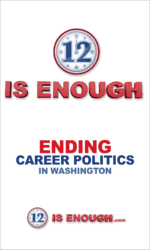 Term limits would increase the likelihood that people who come to Congress would anticipate returning to careers in the private sector and therefore would, as they legislate, think about what it is like to live under the laws they make. -- George Will
Los Angeles, CA (PRWEB) October 23, 2012
Is the end of career politics in Washington near? In the latest Gallup poll Congress has a 13% approval rating; for reference, that's a lower approval rating than OJ Simpson. By all accounts, Congress is broken and now there is a new Super PAC, with plans to help the American people fix it.
12 Is Enough has been launched to force Congress to add an amendment to the United States Constitution enforcing term limits totaling 12 years on the Legislative branch. The new Super PAC's platform is simple: Force Congress to work for Americans, not career politicians. The 12 Is Enough website and political ad campaign have been launched with the objective of ending career politics in Congress. This could mean the end of what many believe, to be era of an elite group of career politicians controlling Washington.
We now live in a world of Super PACs aimed at reelecting incumbents. 12 Is Enough is the first Super PAC built solely to support the people of America. Political analysts and even some members of Congress agree that term limits will provide America with a better economy, create more jobs, improve education for our children, and build a stronger more efficient nation. Politicians who have fought in favor of term limits include Senators Jim DeMint, Kay Bailey Hutchison, Tom Coburn, and Governor Sam Brownback. For a list of more Americans in favor of term limits click here.
Term limits are a non-partisan issue supported by most Americans. If you don't think that term limits should be considered, think of our longest serving Congressman, John Dingell who has been in Congress since 1955, that's the same year the first McDonalds opened.
To learn more about the debate around term limits or even donate to 12 Is Enough, visit them online at– http://www.12isEnough.com. Their first campaign ad is also available on YouTube.