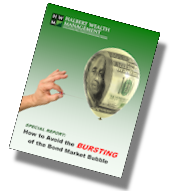 A mere 1% rise in interest rates could lead to losses of up to 20% in 30-year Treasury bonds, supposedly the safest investment on the planet.
Austin, TX (PRWEB) October 11, 2012
Gary D. Halbert, author of the weekly Forecasts & Trends E-Letter, has released a special report documenting how individual investors are resisting the Federal Reserve's prodding to increase allocations to "risk assets" such as stocks, real estate and commodities. Instead, industry data show that individual investors are herding into the taxable bond market, an asset class that could be decimated when interest rates begin to rise in the future.
Has this trend reversed since the announcement of a third round of quantitative easing (QE-3)? Not according to mutual fund money flow statistics. Since the Fed's announcement of QE-3, domestic stock mutual fund outflows have increased as have inflows into taxable bond mutual funds. Even with the stock market's recent gains, investors are opting for perceived safety over artificial gains in stocks thanks to the Fed's easy monetary policy.
"Bonds are traditionally considered to be safer than stocks," said Halbert, "which is likely the reason that so many individual investors are increasing their bond allocations. Unfortunately, these investors are evidently ignoring the fact that this safety applies only if they hold bonds to their maturity. They are overlooking industry sources that say a mere 1% rise in interest rates could lead to losses of up to 20% in 30-year Treasury bonds, supposedly the safest investment on the planet. With this Special Report, it is my goal to educate the investors flooding into bonds as to the huge risk they may be taking, and provide tactical alternatives."
Copies of his Special Report can be obtained here.
In addition to his weekly E-Letter, Mr. Halbert publishes the Between the Lines blog that seeks to provide more timely information regarding the markets, economics and the effect of politics and geopolitics on both. He analyzes the latest economic news, markets and political trends to bring you stories that have an impact on your lifestyle, your future and your pocketbook.
Visitors to http://www.garydhalbert.com can subscribe to Between the Lines and receive e-mail updates when new articles are posted on the blog.
About Gary D. Halbert: Gary has been active in the investment and money management business for over 35 years, starting as a commodities broker specializing in hedging. In the 1980s, Gary's firm launched a publicly-offered multi-manager futures fund, making alternative investments available beyond the ranks of wealthy investors. In 1995, Gary formed Halbert Wealth Management to expand the types of actively-managed investment solutions available to his clients.
To learn more about Gary D. Halbert, Halbert Wealth Management and his various publications, click on the appropriate link below:
Learn more about and subscribe to the Forecasts & Trends E-Letter
Review and subscribe to the Between the Lines blog
Learn more about Gary D. Halbert and Halbert Wealth Management