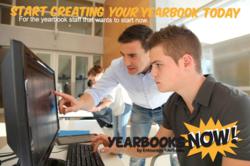 We created Yearbooks NOW! to be an economical choice for schools that are looking for a fun, easy, and low-stress yearbook experience.
(PRWEB) October 10, 2012
Entourage Yearbooks is launching Yearbooks NOW!, a program created especially for schools and organizations with a DIY attitude and a limited budget. Yearbooks NOW! is an exciting new option for schools who want to create an amazing, easy yearbook but just can't find a traditional yearbook program that works for them. The program gives schools access to the same award-winning software and website resources as other Entourage Yearbooks customers, but at more affordable prices. With this new program, schools can sign up online and get started on their yearbook instantly!
"Yearbooks NOW! is a great option for small schools and schools that are trying to grow their yearbook tradition," said Jennifer Richards of Entourage Yearbooks. "The program offers all of the online yearbook tools and creative inspiration that we provide to all of our schools. We created Yearbooks NOW! to be an economical choice for schools that are looking for a fun, easy, and low-stress yearbook experience."
Most schools are looking for a full-service yearbook experience, but not all schools can afford it. Although Entourage Yearbooks offers a full-service yearbook program for 10-20% less than many other yearbook companies, there are still schools in need of an even more affordable yearbook option, and some schools are unsure whether a yearbook project will be worthwhile if they are making one for the first time. Entourage Yearbooks created Yearbooks NOW! to address the needs of these schools.
Yearbooks NOW! has the benefit of low minimum orders at just 20 books and standardized pricing regardless of book quantity. This flexibility allows schools to start working on and selling their yearbooks before they know how many books they will need for the final order. Entourage Yearbooks is determined to provide the Yearbooks NOW! customers great service and support options regardless of the low price.
"We purposely waited to launch Yearbooks NOW! so that it would coincide with the launch of our collaboration software," said Richards. "We wanted to make sure that we were creating an economical yearbook package that would still offer the tools, inspiration and network to set these schools up to make their best yearbooks ever!"
While Yearbooks NOW! customers do not receive all of the same features as full-service Entourage customers, they are able to pick and choose some of the options a la carte. For example, Yearbooks NOW! customers receive an online yearbook kit along with online marketing forms that they can print out themselves. If a school needs a physical copy of either of these items, it can be ordered through their Entourage Yearbooks website.
Yearbooks NOW! is an economical yearbook package that gives customers an easy yearbook experience. Customers can utilize Entourage's collaborative features to learn, share, discuss, and explore a variety of yearbook resources through lessons, quizzes, yearbook discussion forums, and template galleries. Using the Entourage collaborate feature enhances the customer's experience while providing the yearbook staff with an easy way to create the best yearbook they can.
To learn more about Yearbooks NOW!, visit the website at http://www.entourageyearbooks.com/YearbooksNow.asp