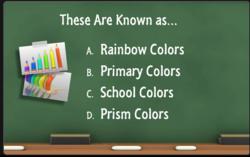 Early adopters praise the software suite as being "very easy to use and extremely fun."
Philadelphia, PA (PRWEB) October 11, 2012
The Gaming Suite is available for download from the Meridia AppCenter consists of three custom themed applications:

EZ-CATEGORIES
EZ-SCHOLAR
EZ-TRIVIA
The gameplay of these apps is similar to the TV game shows Jeopardy, Are You Smarter than a Fifth Grader, and Wheel of Fortune. Each of the interactive meeting game applications allows users to create their question content in PowerPoint.
Participants are then separated into teams and interact with the software by "buzzing in" their answer choice using wireless RF keypads or clickers. The results are tallied in real-time and question scoring is animated with custom graphics and sound effects.
The software is rapidly being adopted by corporate trainers who are looking for a product to break up the standard didactic lecture learning model with something interactive and fun. Early adopters praise the software suite as being "very easy to use and extremely fun."
Company
Since 1970, Meridia Audience Response has been providing innovative technology solutions for live events, instructor-led training, and elections/town hall meetings. Combining the experience with the latest in web technology and radio frequency hardware, Meridia enables audiences around the world to cast their vote, interact with their peers, and take part in the conversation.