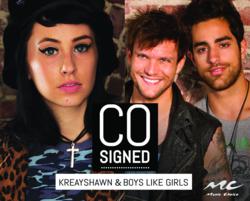 New York, NY (PRWEB) October 11, 2012
Music Choice highlights Columbia recording artists Kreayshawn and Boys Like Girls in the current episode of its original show entitled Cosigned. The show follows the journey of two emerging artists/bands from different backgrounds that are signed to the same record label or Management Company. The episode features Kreayshawn and Boys Like Girls along with Mark Williams, Senior VP of A+R, Columbia Records who explains what he saw in each artist and why they were signed to their label. The show will be available nationally through October on MC On Demand under the Original Shows category. Show Hashtag: #MCCosigned
What does it take to get your big break as an artist? Is it really as simple as being discovered on YouTube and going viral? MC sets the record straight in Cosigned, a 15 minute show. They may have come from different walks of life, but each can relate to the journey of trying to make it in the music industry.
Check out a sneak peak of the show here: http://youtu.be/2RF_0yUgLK0
MC On Demand is the #1 On Demand Network with 1.3 billion annual views. It is currently available in 51 million households. MC's exclusive originals get music fans acquainted with the artists they love — and help them discover new favorites. Popular music shows include Live Undefined, Cosigned, The F Word & Decoded. Each show is meant to help aid consumer music discovery and provide a way to experience music in their daily lives.
For more information on MC Programming, visit http://www.musicchoice.com/Originals/