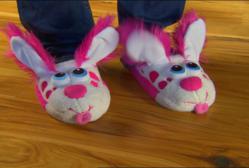 Springville, Utah (PRWEB) October 10, 2012
Stompeez™ animated slippers skyrocketed in popularity last year during the holidays, thanks to the soft, playful characters kids wear on their feet for stomping fun. And while popularity is a good thing, it also overwhelmed the brand, which at that time was new. Now under new management, Stompeez has stepped up its production and distribution efforts to ensure it will be able to meet this year's holiday demand with ease. The company works hard to create, promote and sell products that children and parents will love.
Changes have been made throughout the company and its processes to ensure customer satisfaction and on-time order fulfillment. Stompeez has also made physical improvements to the brand, with quality upgrades to ensure that each fluffy slipper is made with durable stitching and superior material.
As a way to further build consumer confidence, a new 60-day money-back guarantee backs up the quality and value of each pair sold. To learn more about the new and improved Stompeez, read "Stompeez Slippers Makes a Comeback" in the Carlsbad Patch.
Stompeez Theme Song & Commercial Rev Up Consumer Excitement
One factor behind the Stompeez popularity explosion has been its award-winning infomercial, created by Infomercials, Inc. The video showcases the animated slippers and the engaging playtime experience they provide.
"We've worked hard to maintain our reputation of promoting exceptional products and we are proud of our collaboration with Stompeez," said Gary Sandberg, DRTV Campaign Management Director at Infomercials, Inc. "Stompeez is dedicated to meeting consumer demand by providing durable slippers, excellent customer service and on-time delivery."
About Stompeez & Holiday Shipping
Stompeez™ stuffs fun and imagination into ordinary slippers for kids. These cute, soft, comfy slippers are a hit at slumber parties, as well as for just romping around the house. Stompeez are available in eight colorful animal characters that pop to life with each step. They come in sizes to fit kids of all ages, from toddlers to teens. With the holidays approaching, Stompeez are affordable and unique gifts at $19.95 plus shipping and handling. Stompeez slippers are ready to ship with a guaranteed delivery date, including in time for the holidays. A new 60-day money-back guarantee also backs up the quality and value of each pair sold. Want to buy more than one pair of Stompeez? Customers who order two or more pairs at StompeezClub.com enjoy free same-location shipping on the additional pairs.
# # #