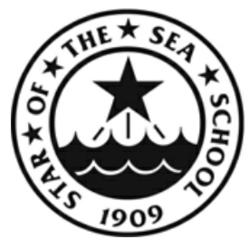 San Francisco, CA (PRWEB) October 09, 2012
Star of the Sea School, a Catholic elementary school located in the Richmond District, started the 2012-2013 school year with some great news for its seventh-grade class – iPads for everyone! As part of a pilot program, all students in the seventh-grade class will begin using iPads for their science textbook starting immediately. Additionally, through the generosity of an anonymous donor the school received a donation of 30 iPads to add to its growing store of technology tools for all students to use. The goal of the pilot program is to eventually replace all of Star of the Sea's junior high textbooks covering a range of subjects over the next few years.
"Star of the Sea prides itself on keeping pace with and even staying a step ahead of technological innovations for the classroom. Our iPad pilot program is a great example of this," said Terrence Hanley, principal of Star of the Sea School. "Not only will the iPad provide an entirely new kind of textbook for our students, but it will enable us to keep costs down by not having to replace physical textbooks every few years. Lower costs and a more innovative learning experience – that's music to any educator's ears."
According to Hanley, if this trial run is successful, next year's sixth graders also will be using iPads in science class beginning in August 2013. The school hopes eventually to integrate iPads into grades 5-8 in several subjects by 2015. The new digital textbooks are dynamic, interactive and constantly updated to stay current with the latest information and discoveries affecting school curriculum. This is a huge shift in how students learn and Star of the Sea is proud to be leading the way.
"The iPads bring the textbooks to life for the students and I suspect it will bring a lot of life to my classroom," said Mr. Quintillian, Star of the Sea's Grade 7 teacher. "Science is such a visual and interactive subject as it is. Using the iPads for our science curriculum textbook combined with our state-of-the-art science lab, our kids are going to have a totally unique and truly hands-on learning experience. In math the students will be using the iPads for graphing coordinate planes. This is a great thrill for the kids and the teachers."
"Over the summer, all I could think of when someone said the word 'school' was I'm getting an iPad, and when we finally got our iPads, my first thought was everyone is going to be so jealous!" said Hanna Regan, 7th grader at Star of the Sea Schools.
About Star of the Sea School
Located in San Francisco's Richmond District for more than 100 years, Star of the Sea includes a Catholic parish, a preschool and an elementary school serving a uniquely diverse population of girls and boys. Star of the Sea provides a nurturing, dynamic, and constantly evolving environment designed to support academic excellence, promote spirituality in action, and build a strong sense of community. Star of the Sea Catholic School is accredited by the Western Catholic Educational Association (WCEA).