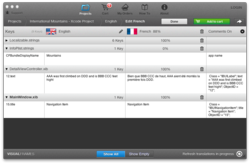 TraductoPro will save you a lot of time in localizing iOS apps and at this point in time the best tool out there in the market.
-- Kurt N., Chalkboard Math app
New York, NY (PRWEB) October 10, 2012
Visual Frames, the creator of TraductoPro, a new Mac and iOS localization tool, is entering all new customers in a drawing for a free iPhone 5. One winner will be chosen at random among all new downloads. The offer expires on November 31st, 2012.
TraductoPro was created to ease the painstaking process of localizing Xcode strings for Mac and iOS app developers. In order to market apps globally, localization is necessary to expand the market share for apps that are created to reach new geo-targets.
TraductoPro is the first tool that virtually automates localization, handling the entire process of localizing Xcode strings and marketing content specifically for Mac and iOS app developers. The app also provides developers with the ability to manage all localization projects and order multiple translations from one interface.
Certified, human translators complete all translations provided by TraductoPro in over sixteen of the world's most widely used languages and who are experts in localizing Xcode strings. Most translations are returned within twenty-four hours, depending on the size of the project or document.
TraductoPro is available in the Mac App store for $99; however, new customers who download the app from the website here: http://www.traductoapp.com/i-phone-5-givaway, can purchase the app for a 50% discount of $49.95 and be entered to win a free iPhone 5.